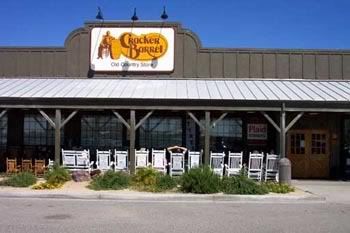 Since the response to my Disney Service Standards post was so positive, and since I've been informed that my actions and my blog post have actually had a positive effect on morale at the Tutto Italia Restaurant in Disney's Epcot Center, I've decided to add a new feature to this blog: Service Stars. When I go out and I experience great customer service, I'm going to rave about it here. We're all pretty quick to complain about bad service, but I don't think we do enough to spread the word about great service. So here we go. I hope you find this new feature valuable and informative.
Cracker Barrel Store #141, Asheville, NC
I had breakfast at Cracker Barrel Store #141 in Asheville, North Carolina Saturday morning, January 10, 2009. When I opened the door I was warmly greeted with smiles by two employees. When I made it past the merchandise to the Host Stand I was again warmly greeted with smiles by the hostess, who sat me promptly. Within ten seconds, my server, Nancy B arrived to take my drink order. I asked for coffee with cream and a glass of water with tons of lemon. Now those of you who read my post on Disney Service Standards will remember that I use the lemon as the criteria to determine if a server is listening to me or not because I always ask for a ton of lemon for my water. While she was gone I looked over the menu. Cracker Barrel had a new skillet breakfast on the menu.
When Nancy came back with Coffee, cream, water and a dish full of lemons I knew it was going to be a great breakfast. I asked her if I could get the turkey sausage patties in the sausage skillet and she said I could. I also asked for honey for my biscuits, which I prefer to butter or jam.
My order was ready quickly, but I was disappointed that it was delivered ice cold. The eggs were lukewarm, the turkey sausage was cold. The potatoes and onions and peppers underneath the eggs were cold. Even the skillet, which I expected to be sizzling, was barely warm--maybe that was the problem, maybe the cold metal skillet sucked all the heat out of the food. In any case, I pushed the dish away and looked around for Nancy. She caught my eye and came to the table.
I informed her what was wrong, she apologized and said she'd go have them make me another skillet right away. I wasn't upset, I wasn't in a hurry to go anywhere and these things happen in restaurants pretty routinely. So another five or ten minutes go by, and I'm not paying attention because I'm reading the paper and I have hot coffee and I'm happy, but then Nancy comes back.
This time the eggs are nice and hot, but everything underneath is still ice cold. I had the impression they just made new eggs in the kitchen and slapped them on my old skillet. Nancy asks how everything is and I tell her, this time a little irked and the poor woman, she was embarrassed and said she'd have them make another one. I really didn't want another one. I told her I was hungry and I'd just eat this one. But then the manager came to the table to follow-up and I explained what happened. He knew about the cold food the first time and was disappointed to learn about the cold food the second time.
The manager told me his name was Mike, apologized, told me my meal would be free and that he would go back and talk to the kitchen manager, remake the food and promised me the food would come back hot the next time. I really didn't want another skillet, but I was allowed to keep the one I had and when the third one came out, it was perfect. Fresh, hot--in a hot skillet--it was the way it should have been delivered the first time.
But what really impressed me was the way everyone responded to the poor food temperature. Both Nancy and Mike sincerely wanted me to have food cooked the way it was supposed to have been and served to me hot. They didn't make me feel uncomfortable for complaining, but apologized profusely and took complete responsibility for the quality of the meal. Mike came back again and wanted to know if there was anything else I needed. The whole time, Nancy kept my coffee cup and water glass full.
Maybe I'm going ga-ga for the wrong reasons. The staff at Cracker Barrel did everything right in my book. That the food came out of the kitchen cold twice was disappointing, but every interaction I had with this Cracker Barrel staff was warm, respectful, polite and professional. And in the end, I enjoyed a very good breakfast. The skillets are good, and I'd order it again. But with the caveat that I would tell the server upfront to make sure that everything was hot.
Thanks for reading.