You just cant match the service you receive if you ever visit Walt Disney World. Customer service is a dying art. Can you believe, when on vacation the last two weeks, that I once asked for directions to a local movie theater from I-95--the major highway in the area, and no one at the movie theater could give me directions? When I explained I was in the car driving and I needed directions, the woman on the phone asked if I had internet access and told me to google directions. Sure, while driving down I-95. I hope she doesn't have a driver's license.
In any case, many of us are very quick to complain. If we feel affronted or put-out or that we were treated rudely, most of us are pretty quick to bring it to the attention of a manager or send in a complaint to a corporate website. If it's justified, that's fine. But by the same token, when you get really good service, you should find a way to praise the service giver as well. The following is the email I just sent to management of Walt Disney World. If you're looking for a place to go on vacation and you want to be treated as a truly honored guest or part of the family, go to Walt Disney World. Stay at Walt Disney World. You will
feel
yourself relax and become happy inside.
_________________________
To ALL That This Concerns:
I just returned to North Carolina from a two week holiday vacation in Florida. I have a lifetime of customer service experience starting at the age of 14 when I worked in my Grandfather's Drug Store. I worked in a leading Michigan public library for seventeen years and in various restaurants as a server for three years and in restaurant management for seven years. I also worked in various capacities, including General Manager, for a large 25-screen movie megaplex. Through the course of various positions, I have been fortunate enough to be exposed to the highest levels of service standards. The highest service ethic is what has attracted me to the companies I have worked for. I have read and digested Disney University's "Be Our Guest" and instituted programs similar to what the Polynesian Hotel used to transform its service ethic in a restaurant setting, but on a much smaller scale. I have attended Doug Lipp's Disney Service Seminars, and I have read, digested and incorporated Danny Meyer's principles he wrote about in "Setting the Table" from the highly successful Union Square Restaurant Group in New York City. So let me assure you, I am no stranger to customer service, and sadly, it's often very hard to impress me.
I am continually dismayed, especially when I go on vacation, at how poor service is in this country. I drove to Disney from the mountains of North Carolina on December 23rd. I stopped at gas stations with disgusting restroom facilities. I ate at a Subway Sandwich Shop where talking on the phone was more important than taking care of a line of hungry guests. In St. Augustine I was prevented from parking in a public lot because it was closing in ten minutes, even though I just wanted to take a quick look at the old fort. I called a movie theater because it's a long drive down to Florida and I needed a break and asked for directions from I-95 and there wasn't anyone at the theater who could give me directions. In fact, even though I explained I was on the road and driving, they asked me if I had internet access and told me to google it. Sure, as I was driving down I-95. That night I ate at an Applebee's in Daytona Beach where the server, who might have been 21, kept calling me "buddy", was insulted when another guest asked for a glass of water without lemon because she heard on the news restaurants don't handle lemons in a sanitary manner and essentially he argued with the guest. Ultimately, he made a fuss about accepting a free appetizer coupon I had from Applebee's, claiming his franchise didn't honor them and had to call the manager and created a scene and kept me in the restaurant 15 minutes longer than I wanted to and made me very uncomfortable. I could go on. All this happened to me the first day as I was driving down to Florida on a two week vacation and I just wished I had saved my money and time and stayed in North Carolina.
WELCOME TO DISNEY: THE DOLPHIN HOTEL
But then something magical happened. On Christmas Eve, December 24th, I was meeting my parents around 10:00 am at Epcot. I arrived at the Dolphin Hotel at about 6:00 am. I was on vacation, I was going to start the day off right with a good breakfast at the Fresh Mediterranean Restaurant. Suddenly, I wasn't "buddy" anymore. I was "Sir." The hosts greeted me and explained the restaurant opened at 6:30, very professionally, and smiling. I thanked them and walked around the hotel, taking in the lobby, Shula's Miami Dolphin Hall of Fame offices, "The Wine Spectator" Review of Todd English's Bluezoo. As restaurant or hotel workers arrived, they all smiled at me and said "Hello, Sir" or "Good morning, Sir." I had some questions about the day and I went to the front desk of the hotel, where I met Joshua. I asked him about parking at the Dolphin and at Epcot and if I had to pay twice. He suggested I leave my car at the Dolphin and take the free water taxi to Epcot. I had other questions as well and he was most helpful. I asked him where I could buy a newspaper, since I wasn't staying at the hotel, and he directed me to a stand with free copies of the "New York Times" and "Wall Street Journal". Joshua was great, the respect shown to me was great. The lobby of the Dolphin, all decked out in the 50' Christmas Tree, the Chanukah Menorah at the Check in desk, the comfort of the lobby, the friendliness of the employees... Now it felt as if I were on vacation. Later that day, after I told my father and step-mother about breakfast at the Fresh Mediterranean and the impressive décor in the lobby, we decided to take the water taxi to the hotel as a break from walking around Epcot. We sat in the lobby. My step-mother walked around. The Bellhops working that day were more than happy to take a picture of us in front of the Christmas Tree. I couldn't get over how everyone kept smiling and was so polite. When people smile at you, it's hard not to smile back. And when you do, you immediately feel better. Giving and receiving smiles is better than any drug. The staff at the Dolphin Hotel understand that and practice it.
FRESH MEDITERRANEAN RESTAURANT
Zakia was my server at the Fresh Mediterranean Restaurant at the Swan. She was amazingly personable. She offered me Coffee and Juice immediately. Coffee was hot. Juice was cold and sweet. I asked for "tons" of lemon for my water—and this is the criteria I use to tell if the server is actually listening to me. Despite me making it clear I want a lot of lemon, most servers ignore me and I have to ask for it repeatedly. The only place that routinely gets it right is Outback Steakhouses. But Zakia came back with a plateful of lemon wedges, more than I could use, and I usually put half a dozen or more in my glass. She explained how the buffet worked. She made me feel at home. She pre-bussed every plate, refilled my orange juice! Who refills an orange juice glass? Nobody but Disney. I asked her where she was from since her name caught my attention. She told me she was from Morocco and had lived in the US for 20 years and had worked at Disney for most of that time. I can see why. As far as breakfast servers go, it's hard to find a good one. Zakia was wonderful. But the breakfast was amazing as well. The two chefs making the omelettes were very friendly and interested in where I was from. The omelette I ate, even though it contained cheese, was completely free of grease. All the ingredients were fresh and flavorful. The pastry bar was a real treat. The juice bar was great. The fried potatoes were excellent and NOT greasy. The fresh melons were ripe and flavorful. I can honestly say breakfast at the Fresh Mediterranean was by far the best breakfast I have ever had and well worth the $18.00. The restaurant quickly filled up and became busy, but even though demands on all the workers time increased, they picked up the pace and I watched them give the same level of service to every guest, and not only that, worked as a team, helping each other out prebussing, refilling glasses, and even smiling and saying "Good morning, Sir" to guests at tables other than their own.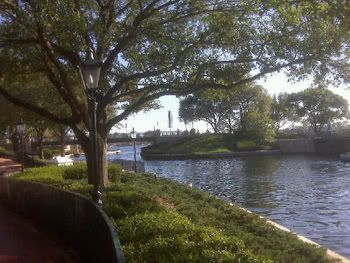 EPCOT CENTER
It's much more difficult to single-out great service at an entire park, but without exception, every Disney Employee I came into contact with was friendly or helpful in his or her own way. The lady at the United States Exhibit at Epcot who was dressed in a blue dress and giving a seminar on the History of Chanukah, Menorahs, The Dreidl, etc, was brilliant. My step-mother and I thought she was an education director from a local Jewish Temple and we were both surprised to find out she wasn't Jewish. All of those attending were listening intently and my step-mother and I approached her afterwards and had some questions of our own. As did some of the non-Jewish attendees, so she actually found herself facilitating an impromtu give and take question and answer session after her excellent presentation. Well Done! The fast-pass service at Soarin' worked perfectly and my father and I only had a fifteen minute wait from the time we arrived to the start of the ride. The "Honey I Shrunk the Kids" show was outstanding! The "mice" scurrying on the floor at our legs was kind of creepy, but we were all giggling like kids. The fireworks and laser light show with the globe in the lagoon used as a movie screen after the park closed was the most spectacular display of its kind I had ever seen. Completely unique and inspirational and the perfect end to a perfect day filled with smiles and surprises, and joy and relaxation. The ONLY criticism I would offer about anything in the Park was the Free Pin Give-Away. We tried to exchange the coupon in the back of the park in the world of nations section and were told we needed to go to the front of the park to exchange it. After we walked all the way up to the front of the park and found the pin-giveaway station—which was not obvious or easy to find—we were given a High School Musical 3 Pin. Well, it's free so it's nice, but it would have been cool if you're giving away a free pin is to let the guest choose which pin he or she would like to take with him or her as a souvenir. And every pin station should have been able to redeem the coupon as a convenience for the guest.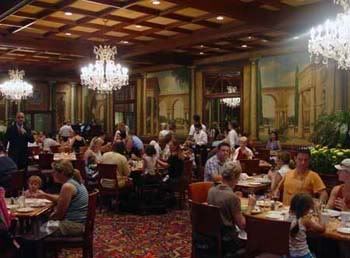 TUTTO ITALIA
But the best example of service at Epcot all day long, hands down, was displayed by the staff of Tutto Italia at the Italian Exhibit in Epcot. We didn't think about reservations for dinner, and around 5 pm it was becoming clear that we would miss out on enjoying a fine dining experience for dinner. Every place was packed. But my father went to Tutto Italia and Cassandra was able to get us a dinner reservation at 7pm. We arrived five minutes earlier and were sat immediately. The General Manager was directing the show from the door (Host Stand) controlling traffic and making sure everything ran smoothly. We were shown to our table and waited on by Giandomenico—an experienced Disney Employee from Milan and Francesco Giansante, a new Disney Employee here as an Exchange Student. I have gone to many fine dining establishments. Tutto Italia ranks right up there with the best of them. The food was outstanding, but the service ethic sets Tutto Italia apart. The service team of Giandomenico and Francesco took care of everything we needed expertly. Lemon for my water delivered promptly. Water glasses refilled automatically as they ought to be, when asked first for bread refills, they kept coming automatically—not one but two types of fresh and delicious bread and breadsticks. Although we were given oil for the bread, my father asked for butter. Not an issue. The entrees were all outstanding. The freshmade pasta with crab I had was perfect. The Salmon was exceptional. The spaghetti and meatballs…mmmm. The desserts were decadent, but somehow light and not too rich. We didn't have any wine because we were all driving two hours to Venice, Florida after we left the park following the fireworks/laser light show. But the wine list looked spectacular and wine service at other tables was very professional. The restaurant was very busy up until around 8:30 or so and then it began to empty out. That's when we really had a chance to talk to both Giandomenico and Francesco. Two of the nicest guys you would ever want to meet. It was like we—my parents and I—were part of the family and we were guests in their house. Service was so warm, welcoming, and pleasant. It was after dinner, right before the fireworks, that I realized how relaxed and happy I was. It was after dinner when I realized I was really on a vacation. And so it was then when I approached the Tutto Italia Assistant General Manager Vinnie Delillo and told him how unimpressed with service in this country I usually am, and how amazingly impressed I was with Giandomenico and Francesco and the entire staff of Tutto Italia for treating us—not just like honored guests, but like family. Vinnie—Vicenzo—was open, personable, friendly, everything you would want in a front of the house manager. And as busy as he was, he had all the time in the world to listen to me rattle on about how great everything was and answer all my questions about how to get everyone I had come into contact with that day the recognition that they deserved.
And that's when I asked how I could communicate this to the management of Disney World because great service is something to be celebrated and appreciated and to be thankful for. Because in today's world, at least in the United States, service is a dying art. Caring for guests is a dying ethic. But on Christmas Eve, the day was magic. And I'm not using the word "magic" lightly or to be cute or because it says to include a description of the magical experience on the Email Comments form Tutto Italia gives to guests when they ask where to send positive feedback. There are an infinite number of places to go for vacation. I really prefer outdoor experiences—whitewater river trips—for vacations. I used to go to Amusement Parks all the time, but since I discovered whitewater, rollercoasters just don't cut it. Thrill rides and the sort really don't interest me. But if I can learn something, such as the biotechnology on display in the new ride adjacent to "Soarin'", or attend seminars and shows such as the ones on Chanukah and the American History presentation on display at the American exhibit at Epcot, then I have an interest. And knowing that I'll be treated to first rate service and hospitality and incredible dining seals the deal.
The rest of my two weeks in Florida did not compare or match in any way the one day my parents and I spent at Epcot. Not even taking windsurfing lessons in Tampa Bay. I did go to one more Applebee's prior to a movie in Sarasota (Main Street and US-301). The service was much better, but the waitress, although really cute, still called me "buddy." I think I winced. Or laughed. At least she was cute.
Thank you most sincerely for a truly magical experience!
Thanks for reading.
Technorati Tags: epcot center, walt disney world, service, customer service, tutto italia, fresh mediterranean market, applebee's, subway, vacation and travel, florida, orlando, hospitality, danny meyer, union square restaurant group, disney university, setting the table
Generated By Technorati Tag Generator