It's true! Clinton has been found dead, but I'll get back to that in a moment. Yesterday, the Headlines Around the World Read: "ABBA Member Found Dead," and for the fans of the 1970s Super Group, panic started to spread until everyone started reading the article and found out that the member found dead was long-time drummer, Ola Brunkert. No less tragic and sad, but many fans found that they had to reconcile their feelings of relief that the death was not one of the Fab Four.

Headlines have long been used to sell newspapers and to grab attention, but in this case, have the headline writers gone too far? At what point does a news agency need to balance an attention-getting headline with fact and integrity to avoid misleading the public? Certainly, this headline was written for its shock value and to imply that one of the four members of ABBA had been found dead. While this headline related to pop culture, it's not a stretch to extrapolate this headline from these others:

1. Super Bowl Champion Found Dead. Wouldn't you think of Peyton Manning? Even if the deceased had been an obscure tight end from the 1980 Super Bowl winning team?

2. Clinton Found Dead. Wouldn't you immediately think of Hillary? Even if the Clinton was a 94 year old man from Omaha?

So when does a headline go too far and where does journalistic integrity begin? It's a fair question, especially in this year with all the misdirection surrounding the 2008 Presidential Race here in the U.S. And by the way, Evelyn Clinton, 69, of Dallas, TX was found dead last Friday. God bless her soul.

Below is the account of the death of ABBA Drummer, Ola Brunkert: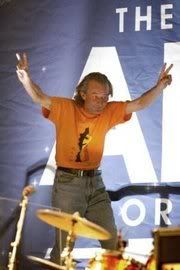 MADRID, Spain - A former drummer for the Swedish pop band ABBA was found dead with cuts to his neck in the garden of his house on the Spanish island of Mallorca. Police said Monday an autopsy showed it was an accident.
A neighbor found the body of 62-year-old Ola Brunkert on Sunday evening at his house in a coastal area outside the eastern town of Arta, a Civil Guard spokesman told The Associated Press on condition of anonymity.
He said an autopsy was carried out and confirmed initial investigations. "It was an accident," he said.
The spokesman said Brunkert hit his head against a glass door in his dining room, shattering the glass and cutting himself in the neck. He managed to wrap a towel around his neck and left the house to seek help, but collapsed in the garden.
Brunkert lived in the coastal apartment complex of Betlem in the municipality of Arta, in the eastern part of Mallorca.
Brunkert had lived in Arta for around 20 years. His wife, Inger. died less than a year ago, an Arta municipal official told the AP. She spoke on condition of anonymity because she was not authorized to discuss the case.
ABBA band member Benny Anderson told Swedish daily Expressen he was sad to hear of the drummer's death. "It is tragic," he said.
Band member Bjorn Ulvaeus added that Brunkert had been "one of the best."
"I remember him as a good friend when we worked together in the mid-1970s. He was a very creative musician who contributed a lot when we toured together and worked in the studio," Ulvaeus told Expressen.
According to ABBA's official Web site, Brunkert and bass player Rutger Gunnarsson were the only musicians to appear on all ABBA albums.
Brunkert first played with ABBA on the group's first single, "People Need Love," and toured with the band in 1977, 1979 and 1980.
He had been a jazz drummer and a member of the blues band Slim's Blues Gang, before joining pop group Science Poption in the mid-1960s.
ABBA, with the four regular members Agnetha Faltskog, Anni-Frid Lyngstad, Ulvaeus and Andersson, was one of the world's most successful bands, with album sales of more than 370 million. The group has not performed together since 1982, but continues to sell nearly 3 million records a year.
Thanks for reading.