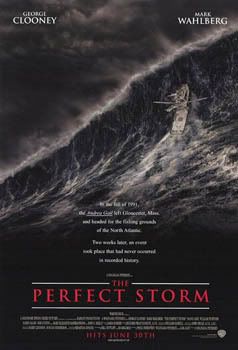 As Hurricane Ike is about to pound the Gulf Coast somewhere in Texas or Mexico, my thoughts turn back five years ago to an incredible, yet somewhat terrifying, experience rafting the Upper Gauley River. This story was originally posted on an online boater's forum called
Boater Talk
, but since my blog wasn't in existence yet, I thought I'd share that experience with my loyal readers.
If you thought reading about Swimming Insginificant was interesting, you'll enjoy this. Cheers!
Michiganrafter's Date with Isabel Gauley Fest Weekend and the Perfect Storm Wave, September 22, 2003.
Hey all,
Just wanted to recount the most amazing whitewater week of my life and spread a little love to those who made it possible. You guys are the best.
First, for those who stayed away from the Gauley for fears of Isabel, I'm sorry that you made that choice because the water was incredible! It was warm, it was big, it was the stuff of legends, and for me, it was a hair away from not happening.
I had four Upper Gauley trips booked, Friday-Monday. Friday/Saturday was scheduled to be an Upper/Upper overnight with
Class VI River Runners
and one of my favorite guides: Kim Constans. Sunday and Monday were single Upper Gauley runs with
North American River Runners
and two of my other favorite guides: Brian Jennings and Bobby Bower. And halfway through the rafting Gauley Fest was scheduled with a BoaterTalk meet and greet. ON PAPER, everything was set for an epic week of great whitewater, great fun with great people and lots of free beer. But then there was Hurricane Isabel. Would she rain on our parade? Would she spoil all our fun? How bad would she blow? And whom would she blow? These were critical questions that needed answers and my fun and happiness depended on it.
So Thursday morning I left Akron and headed south down I-77. Akron was warm and sunny with not a cloud in the sky. But as the Cherry Creek-mobile ate up the miles the sky gradually began to cloud over and get dark. In Marietta the sun was peeking out behind the clouds. In Parkersburg it was overcast. In Ripley it began to look like rain. In Charleston the sky brightened a bit and the dome of the Capitol was gleaming gold. Bob Wise must have given it a spitshine. But by the time I got to Fayetteville it definitely looked like rain, and sure enough, I ran into tons of friends and strangers in the Kroger stocking up on supplies for a hurricane party, including Liquid Logic's and Pies and Pints' and Class VI's own videoboater Harriett.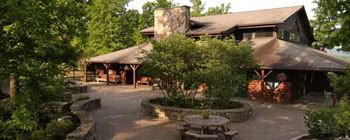 Class VI River Runners Base Camp
After Kroger, I headed up to Class VI and hung out at Chetty's with Bobby Bower and some of the VI guides and awaited my first hurricane. Finally, a little after 4 pm, the rain came. Just a light drizzle, really. No wind. It was eerie, and I could finally appreciate why so many people die in hurricanes, especially before the Weather Channel. Even though a hurricane is coming, it's a very slow and gradual process. First the sky clouds over over a period of many, many hours. And then it begins to rain. It seems innocuous. Maybe by 9:00 pm the wind started to blow in very light gusts. How could anyone perceive a light rain and light wind as dangerous when it creeps up on them so slowly? But then, BAM! The eye hits and everyone is dead and carnage abounds everywhere. It's kind of sudden, you know?
I was sitting outside in Chetty's with Class VI's River Manager Randy Dotson and I noted that I couldn't see the New River from the overlook deck. Randy says: Well you see, Matt, we're in the middle of a hurricane. It's a little misty in the Gorge now. And I said: Oh yeah, if I look closely, I can almost see the leaves moving on the trees--no, wait! That's just me wobbling a little from the beer.
And with that, Bobby Bower invited me back to his house to wait out the storm. He wasn't going to allow me to camp in a hurricane in my new Mountain Hardware Skyview lest I get washed away. After all, if I got washed away in the hurricane, I wouldn't be able to raft with him on Monday and tip him well. So I spent Thursday night at Chez Bower on Beauty Mountain.
FRIDAY
I wake up early and head to the Cathedral Café for breakfast and a last check of BT before disappearing into whitewater nirvana. On BT I learn that cr@vingw@ves is channelling BT posts from his car. After a great Sun-dried tomato bagel with veggie cream cheese and a hot chai served by the waitress with the mostess--Angie--who knew my order before I did because it was what I always ordered for early morning 7:30 breakfasts at the Cathedral all year long; I headed back to Class VI to find out whether or not Isabel had rained out the Upper Gauley.
I run into Randy and he says the Meadow is pumping in 300 cfs. Ch-ching! It's an Upper/Upper Overnight. Isabel had virtualy no effect.
I get a cup of Starbucks at Smokey's and get my gear all packed for the overnight to load into the Class VI Uhaul for carriage to the Canyon Doors Campsite. I change into my river gear. It's two hours later and the Meadow is now at 1100 cfs and on the rise. I figure cool! The dam can cut back to 1500 so as long as the Meadow stays below 2500 we're golden. Around 11:00 am we're driving over the Meadow and we all look down. The Meadow is raging. We guesstimate it's at 2000 and suddenly, if you listen carefully in a bus full of excited rafters talking loudly, you can hear some of the guides saying: "It's ON now, baby," and some of the guides whispering quietly: "Oh shit."
We get to the dam and Julie, our videoboater, has her pink magic 8-ball out and goes around videographing all the rafters and guides and getting predictions. She's at BobbyJo's Boat and asks if anyone will be swimming today. The Magic 8-ball says: It is certain. Julie gets to our boat and recognizes me as the veteran of the group and asks for my prediction. I say it will be smooth sailing all the way through Iron Ring and then Kim is gonna flip us at Sweet's. Kim laughs nervously, and there's a reason for it. We have a little bit of history at Sweet's. If you recall, I posted a Trip Report about a month ago where I got violently ejected in Sweet's and swam on down the river collecting everyone else's paddles? This was the day when our two Class VI boats were the only boats on the Gauley. It was a sweet day, but Sweet's Falls is Kim Constans' personal little nemesis. She got recirced 4 times in the energizer that day, and it's still the one rapid that plays a few mind games in her head.
So, on that note, we put on the Upper Gauley at about 2100 cfs, expecting about 2000 more at the Meadow, and whatever the little tributaries add along the way. No problem, I rafted the Upper Gauley (UG) at 4000 in 2001 the week of the world rafting championships. But Kim has never seen the UG above 3500. I have no worries at all. Having rafted with her, I know Kim is an awesome guide. She tore up the Lower G at highwater with me in a tiny boat, and my previous trip with her on the UG was flawless right up until the violent ejection at Sweet's. I consider a flip at Sweet's to be no big deal, so I'm good to go.
First up: Insignificant. We pick our way through the entrance and then get into the meat. Three other experienced paddlers and one first timer with us. No problem, the line is good.
Second up: Pillow Rock. No problem, we're good to go.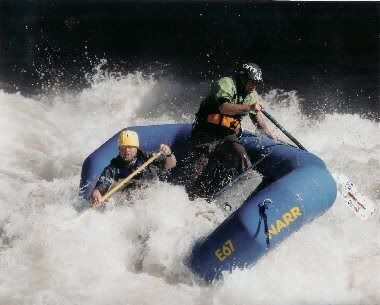 Rafting Pillow Rock with Brian Jennings at normal river levels.
First sign of trouble, right after Pillow Rock, Ronnie dives out in a nothing rapid somewhere after Pillow. He's a big man. He was a little shaken up. And this was an unnamed little nothing.
Second sign of trouble: Meadow View. First, a little history. Have any of you seen Finding Nemo? In Finding Nemo, Nemo's Dad has to cross an ocean to Sydney. On his way, he meets up with a band of sea turtles riding the E.A.C. (East Australian Current.) It's a rush, kind of like a roller coaster. If you've seen the movie, you know the sea turtles are like cool surfer dudes with surfer accents. The father sea turtle, explaining one of the rides says: "First it was like Whoaaa, then it was like WHOAAAAA, then it was like whoaa" all mellow and chilled out. You get the idea. Normally when you get to Meadow View, you don't see anything at all. You never even know the Meadow is there until you cross its mouth because usually during Gauley season nothing ever is coming in. So last month when I rafted with Kim and we figured the Meadow was pumping in 1500 cfs and it was all brown, you could see that leading up to the Mouth so I kept saying: "Wowwwwww...WOWWWWWWWW...wowwwwww. And you know, as any raft guide will tell you, they get a little nervous approaching Lost Paddle. It's a true Class V and the biggest and longest Class V on the Gauley. Last month, Kim was laughing along with me, staying incredibly composed.
OK, so Friday, maybe, I dunno, half a mile before the Meadow, we see this raging muddy torrent. Wave trains extending all the way to the far bank. Rapids breaking where I have never seen rapids break before. I'm nervous. I figure we'll now be facing 4800 cfs. That's big water. I start saying "wowwwww", it's a nervous habit, ok? However, Kim isn't laughing. She's not saying anything. She's completely focused on the river. I look back at her and normally we make eye contact. Not this time. She admits later that night when we get to Canyon Doors that she was a little more than apprehensive. Exactly what she said I won't reveal here, but she was a little more than apprehensive.
OK, were ready to run Lost Paddle. The Gauley is raging. The other guys in the raft are talking without a care in the world. I tell them it's ON NOW and it's time to FOCUS. Previously, some of the guys said it was hard to hear Kim's commands. She said it was okay for me to repeat the commands so everyone could hear. We get to first drop and Kim says all forward. I repeat, all forward. No one is paddling. Kim says Dig it in. I shout: PADDLE HARD. We clear first drop.
Second drop. Hawaii 5-0 is a fucking monster. Kim commands all forward hard! I shout; DRIVE! DRIVE! DRIVE! By this time we have caught up with the the trip that left half an hour before us. There's safety in numbers, right? So our trip and the earlier trip join together through Sweet's Falls. We now have two video boaters and twice as many boats and more confusion. We also don't care about the video. Squirrel figures the Gauley is at 5000 cfs--otherwise known as commercial rafting cutoff level, so all the boats get close and tight. We're so close and tight that Mark Schoonemaker pushes us into the eddy on river right just below Hawaii 5-0 while he goes on to run third drop. Six pack / Decision Rock is underwater. We take a minute to catch our collective breath before ferrying back into the current to run 3rd drop. We learn later that our Trip Leader was freaking out: "Where's Kim! Where's Kim!?" he shouted. Mark told him we were alright, tucked into an eddy. No one ever catches this eddy, normally you eddy out after 3rd drop, so you can understand the high-water enhanced anxiety here.

Rafting Second Drop of Lost Paddle--Hawaii 5-0--with Brian Jennings at normal release levels
THIRD DROP: THE PERFECT STORM WAVE.
Have any of you run the New at 10-12?? Fayette Station and Old Nasty get huge. Tons of fun, 18-20' waves and wave trains. Very friendly. Well, okay. That's the
NEW
. This is the
GAULEY
. This is
LOST PADDLE
.
This is 3rd DROP
. We ferry back into the current and Kim is shouting All Forward Hard! I again shout: DRIVE! DRIVE! DRIVE! And staring down at us is this massive monster wave that looks like a pulsing muddy brick wall. It towers over us. It's bigger than anything I have seen all year on the New River at high water. I scream: OH SHIT! For the split second I have to contemplate how this is going to end up, I take a deep breath and do the best I can to prepare to swim for my life while at the same time digging my paddle into the wave as deep as I can and bracing as hard as I can. I imagine George Clooney in The Perfect Storm struggling to get up the wave face that is about to hand them their doom. And then our 14' Avon Adventurer is over the wave.
Downstream, Mark Schoonemaker watches in terror, admitting later that he and others ran around the wave and that he thought we were going to have our asses handed to us on a muddy platter. Let me tell you something: Class VI Guides are the shit! Out of all our boats, there was only one swimmer in Lost Paddle, and that happened at Tumblehome. Mark estimated the Gauley was at 5000-5500 cfs because Six Pack Rock was underwater and that only happens above 5000 cfs. KIM CONSTANS, having never before seen the Gauley over 3500, got us through Lost Paddle at a later confirmed 6500 cfs expertly, running The Perfect Storm Wave at 3rd Drop and making it while more experienced guides ran away from it--and even more impressively, while facing her own fears. I LOVE YA KIM!
(Note: Normal release levels on the Gauley Level are 2800 cfs. 2800 cfs provides nice, good, Class V fun. This day, the river was at 6500 cfs. More than twice normal release levels. Think of it: A Class V River
on top
of a Class V River, and then some.)
OK, So Tumblehome was rather uneventful after The Perfect Storm Wave. We ran it clean, I was quite relieved, and feeling a little cocky. Surely Iron Ring would be a piece of cake after Lost Paddle. And I was right, it was. Sort of.
We got to Iron Ring, all the guides discussed the line. We were right on line, but shit happens. Squirrel's boat flipped. Squirt's boat flipped. Kim dumptrucked and 3 of us went swimming. But you know, even though I swam a quarter mile, attempting self-resuce by swimming to Bobby Jo's boat, only to make it under her stern and have her stern almost come crashing down right on top of my head as she opted to throw her rope to another swimmer while she looked at me with a wide smile on her face and saying: "Self resuce! Self rescue!", the swim was fine. Lots of big waves, but relatively gentle. I knew where to breathe. I even attempted to extend my paddle to another swimmer who was freaking out to kind of help him out, but he was too out of it to do anything but sputter and flail around helplessly. So for some of the others, they had a pretty nasty time at Iron Ring, but I think it was here, at 6500 on the Upper Gauley that I finally became comfortable with big water swimming. To me, this was much more like swimming in Lake Michigan in whitecaps than in a violent rapid on a river. Or maybe I'm just delusional. Anyway...
OK! Play the Jaws theme now in your head. Dun da dun da dun da!...
SWEETS FALLS
We were right on line, but Kim made one mistake. She told us to get down when at this flow she really needed us in our seats to paddle. We flipped. The video shows Kim got out from under the raft right away, but the rest of us were stuck under it until we got to Postage Due. (Postage Due is this massive rock about 30 yards downstream of Sweet's Falls that normally other rafters climb up on about six feet out of the water and have lunch on.) I made the mistake of trying to breathe in an air pocket between the thwarts. Didn't quite make it and I swallowed water instead of air. Remind me never to try that again. Water was flowing over the top of Postage Due. We gathered up the swimmers, and we ate lunch downstream, every now and then coughing up the water we aspirated while trying to breathe as we were stuck under the raft.
When we got out of the raft, I embraced Kim for about five minutes. Actually, we kind of stood there in shock, completely glued to each other. That's when George and Julie, the videoboaters came by and confirmed the flow at 6500. The Meadow was approaching 5000 at this time and we were also informed that they were going to dump 15000 from the dam. So after lunch, we booked to the Class VI campsite across from Canyon Doors--the most beautiful spot on the river. Jeff and Nancy cooked the most amazing dinner and the Strawberry and Grape Moonshine, and the Scotch, and the Baileys and the Killians flowed and flowed and flowed.
SATURDAY
.
The Lower G at 7000 was a pretty cool encore to the previous day's rafting. We had long since abandoned the plan to run the Upper G on the second day of the Upper/Upper overnight. The Lower G suited us just fine, and it was fun and it was big and most importantly, it was uneventful. We even saw Jeff Snyder and one of his proteges striding and rolling and striding towards the takeout.
We got back to Class VI and I'll be damned if I didn't get the jitters watching the video. After saying goodbye to Kim and Mark and my fellow rafters, it was on to?--GAULEYFEST.
GAULEYFEST
Surprisingly, despite all the warnings on BT, there was not a cop or a sobriety checkpoint in sight.
I had a great time. I ran into many friends from BT and American Whitewater and raft guides from all over the country. It was a real pleasure meeting the following Bters for the first time:
Eprincen, GRITS, Clean.run, Funkmop, Wmu-jeff, K1chik, Claire, Gcanyon, g-dave, PhilU and Dustin, MOONunit, Bradley, okeefe; Along with seeing again Mustangsally, Teekay, Bj, Sutton, Risa, Barrygrimes, and Rattso_del_flatulato.
I also saw Jules, but not wanting to be chided for attending a festival where I was a mere passenger on the bandwagon, I chose discretion and stayed away.
But I had a great time talking with Jeff Snyder and seeing some of his artwork. I'm gonna get together with Jeff, probably early next spring and try striding. He also invited me along for a stride and ride. I think that would be so cool. I also met Lisa with Lotus, and Chris Reider from Timberline Tours in CO at his Mongo Products booth.
Thanks everyone from MountainSurf, LiquidLogic and AW for the free beer and Cliff Bars. Who needs good food at Gauley Fest when you have beer and Cliff Bars? And thanks to all the law enforcement personnel who decided NOT to install sobriety roadblocks up and down and all over Hwy 19.
SUNDAY AND MONDAY
Well folks, after the excitement on the Upper Gauley Friday, the UG runs on Sunday with Brian Jennings at 4200 and Monday with Chris Esposito at 3500 were a piece of cake. Brian and Chris are two exceptional guides that also deserve being called: The shit! On Sunday, at 4200, I was probably more relaxed than I should have been on the Upper Gauley, but Brian is about as good as a raft guide gets. And on Sunday, Chris had the sweetest smooth line through Iron Ring that I have ever not had to paddle through. (Would have loved to have been in your boat Monday Bobby Bower, but I hope you're feeling better!)
Sunday night I took Brian out to Sedona and got to see our friend Amy, and Monday night I hung out at Class VI and enjoyed Chetty's fine food accompanied by Newcastle.
It was an epic week of rafting and fun. I'm glad I got to meet many of you and can now put a face to a screen name. If any of you had just 1/10 the fun and excitement that I did, I know that you had an amazing and most memorable time.
Thanks for all the fun, and most of all, thanks to you Isabel--I don't think I would ever have seen 6500 on the Upper Gauley, let alone the Perfect Storm Wave in 3rd Drop of Lost Paddle without you. Until next time!
___________________
Doesn't that sound like an incredible four days on the river? Gauley Fest Weekend is September 19-21, and Gauley Season runs through the second week in August. There's still plenty of time to plan your book your Gauley River Adventure! Call the folks at
North American River Runners
or
Class VI River Runners
and book your whitewater adventure today!
Thanks for reading.
Technorati Tags: gauley river, class vi river runners, north american river runners, narr, upper gauley, lower gauley, hurricane isabel, isabel, brian jennings, kim constans, whitewater rafting, whitewater adventure, white water, rafting
Generated By Technorati Tag Generator