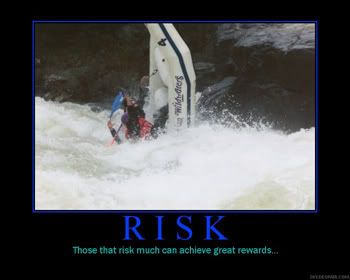 Gauley Season begins Friday, September 5, 2008; and for six glorious consecutive weekends, the hamlets of Fayetteville and Summersville West by
God
Virgina become the Center of the international whitewater community where rafters, kayakers, and canoeists come to test their mettle against the river known as the "Beast of the East".
What makes the Gauley River so special? 100 Class III, IV and V Rapids in 26 miles of fun. The Upper Gauley is for expert boaters and adrenaline junkies only looking for the ultimate in big-water rafting in the United States. The first nine miles contain the Big Five: Class V Insignificant, Class IV+ Pillow Rock, Class V Lost Paddle, Class V Iron Ring and Class IV+ Sweets Falls. There probably is no better dependable, accessible, jam-packed nine miles of big water rafting fun anywhere else in the world than the Upper Gauley. The Lower Gauley also has its thrills with 13 miles of big drops and roller-coaster waves including the highlights of Koontz Flume, Lower Mash and Pure Screaming Hell. Tack on the three miles of the Middle Gauley with Class IV Woods Ferry, also known as Little Insignificant, and the Gauley just gives miles of smiles.
Many outfitters offer rafting trips on the Gauley River. MTMD recommends both
North American River Runners
and
Class VI River Runners
for both your safety and adrenaline pumping action.
Thanks for reading.
Technorati Tags: gauley river, gauley season, upper gauley, lower gauley, fayetteville, summersville, summersville dam, insignificant, pillow rock, lost paddle, iron ring, sweets falls, koontz flume, woods ferry, lower mash, pure screaming hell, narr, north american river runners, class vi river runners, whitewater rafting, whitewater, white water
Generated By Technorati Tag Generator