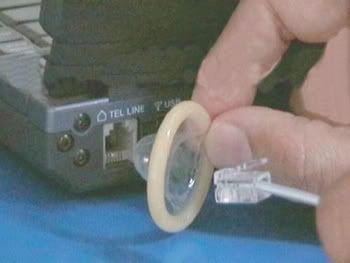 I wish it were so simple: just put a tiny rubber condom on the ethernet plug and voila--my computer would be safe from computer viruses. Over the last week I've been struggling with restoring data and software and productivity lost by a number trojan viruses that struck our system. By the way, isn't the
name
of the virus class ironic? TROJAN! When Trojan is by far the most popular brand of condoms meant to protect you? But I digress.
In any case, I've never had a virus before. I've always kept my home computer virus protection and firewall software up to date. But some times in a corporate environment, things can get a little behind. So I wanted to share with you some of the things I've learned to help protect you.
1) Always, always, always keep your virus protection software up to date with the latest version of the software, and always, always, always subscribe to the latest virus definitions. DO NOT under any circumstances, no matter how much it costs, let your virus definitions and software versions become out-dated. That's how my work computer got infected--not that we let our virus update subscription lapse, but because we didn't install the latest version of the anti-virus software. Somehow, somewhere, our software was upgraded to version 7.0 and then to version 8.0, but on most of our work computers, version 6.0 was running and that left all computers connected to the internet vulnerable, including mine.
2) Be careful of adding toolbars to your browsers. Most toolbar installations carry some form of cookie, spyware, or adware that compromises the security features of your browser. It is very easy for those writing malicious virus code to get to your browser and to your computer through the vulnerabilities of toolbars.
3) Popups are not your friend. Clicking on a popup can initiate the download of executable files onto your computer. Some of these even self-install. If you come across a warning dialog box on any website that you visit that pops up and tells you that your computer is infected or that your virus definitions are out of date or your performance is slow and offers you a fast and easy solution, DO NOT fall for it. And if after you try and close the window but it keeps re-opening anyway, it's probably too late and you have been infected. Run your full virus scan immediately or call the Geek Squad.
4) JPEGs can spread viruses. I encourage you all to read this
PC World
article. This article is several years old. Be careful when copying or downloading web graphics from sites that you don't know. No file should be considered safe until it is scanned by the lastest anti-virus software with the latest anti-virus definitions.
5) Shareware. You get what you pay for folks. Only download shareware from trusted sites. Plugins and code from your friend down the street might be cool, but they could also be virus bait. Not only might they be vulnerable to virus attacks, they might have viruses and spyware included in them. This is especially important for the blogging community that likes to try out cool widgets and the latest plug-ins on their wordpress and blogger blogs.
6) Avoid the bandwagon. Those of us in the blogosphere like to be at the forefront of new software, technology and innovation. Avoid the latest releases and the coolest new features if they are in beta testing. Wait until the software has been out there, tried, tested, AND patched before you update your system.
7) Research. In order to protect yourself and your hardware and your dollars, you have to know what the threats are, what the level of risk is, and what the remedies are. Don't trust any one source for your information. Read several newspapers, magazine and PC-oriented websites. Stay up to date. If you're going to play in the sandbox, you gotta find a way to keep the sand out of your shorts.
Thanks for reading.
Technorati Tags: computer viruses, malware, spyware, trojan, virus, viruses
Generated By Technorati Tag Generator