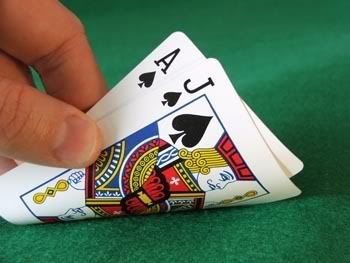 Jan from
www.Online-Casinos.com
has asked me to review www.online-casinos.com and I am happy to do so.
I have to admit, I have always been weary of Online Casinos--most likely because all advertising I have seen for them comes from spam email. However, this was different. EntreCard--a great blog promotion site with all kinds of great support to help anyone be successful at blogging, recently formed a partnership with ReviewMe. I signed up in the hopes of finding a better alternative to Pay-Per-Post and to make a little income, and through ReviewMe, I was given the opportunity to review this online site.
What makes this Online Casino Site different from other sites is that it's
a free no-download training game for blackjack players with built in advice and tips for the player. I consider myself to be an excellent blackjack player. I go to Casinos often and usually win at blackjack, so I have some practical knowledge in terms of how to play the game. So I figured I would give the site a test drive and see if it could deliver advice and tips that would help a new player win at blackjack, and if it did, I decided I would go ahead and blog about it.
I was pleased to discover that in terms of blackjack, this site does deliver. First I looked over the rules, tips, and advice section and all information presented is consistent with the books and articles I've read on blackjack and my own experience. But what really hooked me about the site and the reason why I am recommending it to you if you want to learn how to play blackjack is the "Blackjack Better Trainer".
What the Blackjack Better Trainer consists of is an online video game--for lack of a better term, that simulates a blackjack table. You specify the house rules, and then you play blackjack against the online dealer according to the rules. The Trainer gives you the option to hit, stand, double or split, just like in a real betting situation at the casino. And after every hand, it keeps track for you of how you were following correct strategy or incorrect strategy and lets you know how you did. When you deviate from accepted strategy, it will let you know what you should have done. The result is that you learn all the basics of blackjack quickly and you learn what happens when you deviate from the rules without risking any money.
To test out the betting trainer, I played 50 hands in less than 30 minutes. I ended up winning $7.50 on the initial $100 bank after making $5 bets every hand and not adjusting the bet with any kind of progressive betting strategy. My results were representative of what you can expect to win or lose at a $5 table with a $100 bank when you're not in the middle of a particularly good streak nor employing a progressive betting strategy. Further, according to the betting trainer, I made 47 correct decisions and 3 "incorrect" decisions. But the really cool thing about the "incorrect betting decisions" is that I knew the 3 incorrect decisions were modifications I have made to my playing strategy over time. The key when playing blackjack is to be automatic and consistent in your playing and in your betting. The three playing variations I chose to make were thus:
1. When a dealer has an Ace up and doesn't have blackjack, and I have an 11 up, I always double down. The betting trainer suggested just a hit. My experience has been the dealer is likely to have a small down card. Since I know the dealer does not have a ten or a face card, and since tens or face cards are the most likely card to draw in a hit, I have a really good chance of hitting 21 and winning a double down, and that is exactly what happened in the Blackjack trainer.
2. The second variation was the dealer was showing a 3 and I had 12. I took a hit. The trainer suggested that I stand. It's a 50-50 judgement call depending on who you learn blackjack from. Yes, the 3 is kind of a bust card and yes I could draw a ten or facecard and bust; but my experience has been that a 2 or 3 and even a 4 up for a dealer is more of a wild card and a 12 or 13 in my hand is very rarely going to win. So I take the hit, understanding the risks.
3. The third situation was with the dealer showing a 4 and I had 12. I took the hit in the training situation to see what would happen, knowing if I were in an actual betting situation I would stand. The risks of me busting compared to the chance of the dealer busting become more even when a dealer has a 4 showing. And although it usually bites me in the butt, I will always stand on a 12 when a dealer has a 4 showing. But I wanted to see what the online betting trainer would advise, and it gave the correct advice that I should have stood on 12.
So overall, I am very impressed with the Blackjack section of this site. I think if you want to learn how to play blackjack, a few hours here would be invaluable. The only negative to the site I could see is that it really doesn't teach you much about betting strategies.
Your betting strategy is every bit as important as playing consistently by the odds in choosing to stay, hit, double down or split your cards. In fact, most blackjack players that lose, even though they play by the rules 100% of the time, lose because they employ betting strategies that aren't sustainable and that actually play into the casino's favor. The betting strategy is the second part of the equation that casinos don't teach you, and sadly, the same is the case for this online casino review and training site. While the betting trainer allows you to adjust your bet, it doesn't give you any guidelines for how to do so. After visiting this site and spending time here, you will know how to play casino games, but you won't necessarily know how to bet and to leave the casino with more money than when you arrived and started playing.
I'll cover my betting strategies for blackjack in a future post.
But overall, I am very impressed with www.online-casinos.com. In addition to this being an education site, it also gives reviews of actual online casinos out there. Like I said, I've always been weary of playing blackjack or any casino game online, but after spending time on this site I'm confident that the information it provides is accurate. In the coming months, I'll play blackjack on an online casino this site recommends and follow-up with another post to let you know how it turned out.
Blackjack is my game, but www.online-casinos.com also gives you training for poker, slots, roulette, craps, video poker, video instruction, reviews of online and real poker rooms, progressive jackpots, and casino-related news. If you are interested in casino gaming, this site is a valuable one to bookmark and refer to often.
NOTE: The above is a paid review, however, all content is my own and any recommendations are my honest opinions.
Thanks for reading.