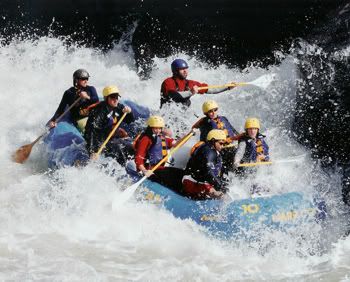 Reaching out to "tap" Pillow Rock during a perfect run with Tasha
Last week, as most of my readers know, I took five days off from work and spent it rafting the Upper Gauley River in West Virginia. While I was gone, I used the "Post Options" feature of Blogger to schedule new posts each day I was gone. I thought I would entertain you with some YouTube Videos I found of each of the rapids, but more than that, I figured I'd entertain you with what we call "Carnage Video," otherwise known as highlight reels of wipeouts and crash and burns. While rafters enjoy watching video of clean runs, video of the misfortune of others on the river is even more entertaining. Okay, maybe we're sick, but it's still fun to watch.
Some of you actually thought these videos were daily shots in real time of what was happening to me on the river. I apologize if I scared some of you, but your comments were great, much appreciated, and now, I'm going to use them to give you some insight as to what actually happens on a Class V River, and to dispel some myths of the dangers of rafting in general.

At the bottom of Class V Sweet's Falls
As you can see from the above photo, we made it down 14' Sweet's Falls just fine last Monday. And the same was true of each of the three previous days on the water. The following comments (in bold) were left on each of my posts as indicated, and below them in normal type will be my response.
LOST PADDLE CARNAGE
Karen said...

Oh wow! That looks exciting and scary.
September 26, 2008 11:37 AM
Yes! It's definitely exciting, and if you're swimming Lost Paddle, you should be scared. But normally fear doesn't enter into the equation. The swim happens so fast it requires all your concentration to stay in the current away from hazards like undercut rocks, strainers (tree branches or other obstructions in the water), and other hazards. Lost Paddle is the only Class V rapid on the Upper Gauley I have not swam, knock on wood, and hopefully it will always stay that way. Lost Paddle is my favorite rapid on the river because it is the longest and most challenging. It's also the most consequential. But I minimize my risk by rafting with guides I know and trust from companies with a reputation for safety. Those poor rafters in the video--they weren't rafting with the most reputable of companies that day, and watching that swim on the video is indeed a scary experience. Fortunately, they all made it out okay.
Empty Streets said...

that looks scary Matt, good luck and am knocking on a lot of wood for yah :) but am sure you'll have a hell of a time out there :)
September 26, 2008 11:25 PM
Hey Empty Streets! See the comments above regarding the scariness. Thanks for knocking on the wood, that is much appreciated. I had 4 clean runs at Lost Paddle the four days I rafted the Upper Gauley last week. I DID have a helluva time.
Shinade said...

Oh wow literally up the river without a paddle. I have only been whitewater rafting once.

And I got dumped. But, I hung onto my paddle for dear life. But, alas, I still had to jump back in and float down the rapids to get back to our canoe.

Thank goodness the river was not too bad!!

Hope you made it!!

http://shinade.blogspot.com
September 27, 2008 6:29 PM
Shinade, thanks for sharing. Do you remember what river you were on? On most rivers the swim is very safe. You just have to remember to keep your feet up, otherwise known as your "nose and your toes" in the air. That prevents foot entrapment, the most dangerous hazard on any river and the usual cause of death. If you are reading this, you know I made it just fine. Thanks for thinking of me.
tashabud said...

Has anyone died on this particular event? When the raft tipped over, did all the occupants able to get out from underneath? I'm afraid that somebody got trapped and drowned. I don't think I'd like to go on a whitewater rafting if it looks this dangerous.
Sadly, yes. People have died on the Gauley River, just as they have died on almost every river. Fortunately, there hasn't been a commercial rafting death on the Gauley River in many years. Basically, if you go with professionals, you seriously minimize your own risk. In fact, whitewater rafting is safer than flying in a plane or driving in a car, and the odds of death are far less than being struck by lightning. When people die on whitewater rivers, it's normally because they get out there on a cold day, without proper clothing, without PFDs (life jackets), and in rafts they purchased at a Walmart instead of the highly durable and quality rafts professional outfitters use.
As for when rafts flip over, normally people "wash-out" from underneath the raft in a matter of seconds. The current of the river is usually flowing very fast in places where rafts flip. That current pushes anyone underneath the raft out from underneath it almost instantly. Usually, a swimmer--someone out of the raft and in the water--pops up from underneath the raft right next to the raft. They grab hold of safety straps around the edge of the raft and climb right back in or are helped back in by others in the raft.
As for danger factor, you choose a rafting experience based on your comfort level. I enjoy Class V rafting and I have over 100 runs down the Upper Gauley. There ARE easier rivers. Class I and II for beginners, Class III for intermediate, Class IV for advanced, and Class V for experts and highly experienced rafters. I'm sure you would enjoy a trip on a Class II or III river and with that experience under your belt and the fear of the unknown behind you--or not knowing what to expect--you'd be in a great position to know if Class IV or beyond would be something you wanted to try.
SWEETS FALLS CHAOS

tashabud said...

How come that raft is staying in the same place? Is it anchored, or is it trapped within the vortex of the water currents? This sport is too dangerous for my own liking.
That's a great question, Tasha. That raft is caught in a hydraulic at the bottom of Sweets Falls known as 'The Energizer'. It's a keeper hole. What that means is that without help the raft, or a person, might stay in that spot indefinitely.
What you are seeing is that feature at very high water. Normally, rafts don't go out on the river when it's this high, but this was after Hurricane Isabel and the river came up fast while rafters had already put on. I was out there that day. Some of the scariest shit I've ever seen or been a part of.
PILLOW ROCK WIPEOUT
Ken Armstrong said...

The swim wouldn't be pretty safe for me. I swim like a brick! :)
September 28, 2008 4:35 PM
Actually Ken, the swim there is fun, kind of like a ride at a water park. It's safe. You're wearing a PFD (Personal flotation device). And in whitewater like that, you really can't swim. You're just kind of swept to where the river wants to take you. When you fall out or flip at Pillow Rock, you go down deep, like 5-10 feet underwater. Then the current grabs you and sweeps you downstream. You're wearing a flotation device, so you pop up right at Volkswagon Rock, but there the river drops like ten feet, so you're pulled under water again, ride the Green Highway under water, and then pop up 30-200 feet downstream. It all takes about 3-10 seconds. You just relax, hold your breath, and when you pop up, swim back to your boat in relatively calm water. I've taken that swim 4 times. Each time I come up smiling. If you're going to swim anywhere on the Gauley River, I recommend you do it at Pillow Rock.
If the Gauley River were an amusement park, you could probably sell tickets to people, have them climb on top of Pillow Rock, jump in, and enjoy the swim along the Green Highway. On a warm day especially it's a lot of fun.
Purpled Sky said...

i don't think i'd ever float back to the surface. :-)
September 29, 2008 3:58 AM
Yes you would. You'd pop up pretty quickly. That's why you wear a Personal Flotation Device (PFD), sometimes referred to as a life jacket.
tashabud said...

Geez, Louise, if this is all that's what's going to happen to all the rafts, why even bother? I'm holding my breath, hoping that none of the participants got hurt seriouly from hitting rocks down the the rapids or getting trapped underneath the rafts.
Tasha, this is a highlight reel of crash and burns. It doesn't happen all the time, in fact, it's the exception. I've rafted the Upper Gauley over 100 times. There are five Class V rapids on the Upper Gauley, so I've rafted over 500 Class V Rapids on this river. I have fallen out only 13 times, or about 2.5%. And I've only flipped five times. Two times at Pillow Rock, three times at Sweets Falls. Flipping at either rapid is pretty safe. I've described the experience of flipping at Pillow Rock above. At Sweets, you flip at the bottom of the rapid after you have gone over the 14' drop. So you're just in a deep pool of fast moving current that it's easy to swim out of. The water is very deep at both of these rapids, you normally don't go anywhere near rocks that can hurt you.
UPPER GAULEY CLASS V CARNAGE
Empty Streets said...

that looks wicked fun :) wahhh i want to do that toooo:)
September 29, 2008 7:58 AM
Empty Streets--email me. Anytime you want to go, I'll point you in the right direction. Whitewater rafting is tons of fun.
tashabud said...

This and all the previous videos are definitely heart-stopping and awesome videos to watch. However, I don't think I can do this kind of sport. Are you crazy Matt?! This is madness. Hope your mother is not seeing what you're doing. It's a good thing you don't have a wife or kids. Can you imagine what you must be putting them through, worrying about you? Sorry Matt, I'm sounding just like a concerned parent here. I know you're a big boy who can take care of yourself. Anyway, do stay safe out there.
September 29, 2008 10:39 AM
Tasha, thanks for the concern. Really, it's not all non-stop heart-stopping thrills and spills. Although, the first time I ran the Upper Gauley I fell out and swam the first Class V rapid, Insignificant. I had a post on that a few weeks back that describes the experience pretty much as it happened. There was video of it. I showed the video to my Dad. All he could do was rewind the video and advance it forward in super slow motion, rewind and watch it again. Let's just say making him watch the video was a nice way to get back at him for something he did to me long ago. Hehehe.
Grandy said...

Oh that looks fun and scary. Not sure I could do it.
Sure you could. There's lots of rafting out in California, Grandy. Book a trip out on the Tuolumne or Merced; or South or Middle Fork of the American. You'll have a great time. All four of those rivers are easier than the Upper Gauley. Get out there, see what's it like. You'll have a blast. Everyone should have a Class IV or V River on their Bucket List.
MY DELIVERANCE
NathanKP said...

Very beautiful blog. I love all the pictures of water a rapids.

NathanKP - Imagination Manifesto
September 30, 2008 10:40 AM
Thank you Nathan, that's very kind.
Jeff said...

Hi Matt,

I love reading your stories and seeing your rafting pictures and videos. Really, it is tough to find the adjectives to describe these things. 'Beautiful' and 'scenic' just don't cut it. 'Majestic' gets a little closer.
The question that always comes up with me is, 'Don't you guys get hurt doing this stuff?' I mean seriously hurt, not just a bruise here and there.

Jeff
September 30, 2008 11:34 AM
Jeff--thanks for the kind words and all the compliments. Those are much appreciated. In short, the answer is no. Usually the worst anyone gets hurt out on the river is scraped knuckles from paddling or a broken nail. The most common injuries are twisted ankles or knees from walking on the rocks on the shore. The most common hazards are bee stings or spider bites. Rafting is safer than driving a car. I hate to say this because I don't want to curse or jinx myself, but in 13 years of Class V rafting, the worst that's ever happened to me, knock on the wood, are scraped knuckles and a sore knee from hitting it hard on a rock while swimming a rapid once. The knee wasn't broken or dislocated or anything. I just got a bad bump and it was fine after a couple weeks.
tashabud said...

I am able to traverse the rapids and take all in the sounds and sights with you as I read your post. Very interesting read. Thanks for sharing your whitewater rafting experiences. So good to know you're back home safe and sound.
September 30, 2008 4:59 PM
Actually, I wasn't home safe and sound when this post appeared and you commented on it. Before I left for the Gauley River, I made five posts and scheduled them to automatically post on each day I was gone. This one posted on Tuesday before I woke up and began to drive back home.
hope said...

Wow! I am amazed at what you are capable of..and can still call fun. :) And the whole time I read this, I heard "Dueling Bangos" playing in my head.

Life is interesting simply because people view the same thing in such different ways: you respect the river and it allows you to have a helluva ride. I respect the river...and stay on the bank because to me, Hell isn't cold, it's really, really wet...with large waves.

Thanks for allowing me to have the fun without the fear.
September 30, 2008 5:59 PM
It's my pleasure, Hope. I'm glad you enjoyed the read, but I really, really recommend the waves!
Shinade said...

Wow this makes the one time I went rafting look like child play. And it wwas!!

This is simply incredible!! and wow the pictures are great too!! thanks for sharing with us!!
October 01, 2008 4:57 PM
Shinade, my pleasure! If that one time you went rafting was the time you were describing above, I think your swim was a little safer than maybe you let on. The thing about rafting and moving water is that the first time or two go through it, you're dealing with the fear of not knowing what to expect or what will happen. After that fear gets diminished by experience, you come to the realization that it's really not a big deal afterall, and then you can begin to really enjoy the experience, swimming and all.
crazy working mom said...

Wow, what a rush! I've never been rafting before. But, I would sure love to go.
October 01, 2008 11:33 PM
Any time. Just let me know where you are and I can probably recommend a great first time experience for you!
Kim said...

a terrific story Matt !!!
sounds like an awesome experience..
Deliverance was one of those films you never forget .....
October 02, 2008 5:37 AM
Thank you Kim. It really was an awesome experience. Of all my hundreds of rafting experiences, this was one of the highlights.
Empty Streets said...

WOW matthew this article is like a wiki article :) I think you should start submitting some of your work to them your becoming quite the expert on the topic :)
October 02, 2008 12:19 PM
Empty Streets--thanks for the praise and the kind words. Actually, I've been considered a bit of an expert on commercial rafting for quite a few years. As for submitting this to wiki, well, it's a story. Maybe I should be submitting it to Outside Magazine though, eh?
Ken Armstrong said...

This is a great post Matt. I really fancy one of those Tee Shirts, maybe we can arrange a Paypal deal sometime :)
Ken, thanks for the praise! Did you get the link I sent you? If you need help ordering the t-shirt, just let me know, mate.
Thanks for reading.
Technorati Tags:whitewater rafting, rafting, whitewater, gauley river, upper gauley, pillow rock, lost paddle, sweets falls, questions and answers, rafting facts, rafting questions, rafting faq
Generated By Technorati Tag Generator