Saturday evening, October 11, 2008, six months of my work comes to fruition as the
Nantahala Outdoor Center
hosts the
International Whitewater Hall of Fame
2007 & 2008 Induction Dinner and Event. It's been a privilege to work on this project, but it's been even more of a privilege to correspond with and meet some of the world's greatest explorers, pioneers, kayakers, rafters, and human beings and their families.
One of these individuals that I never got a chance to meet was 2007 Honoree William Nealy. According to the IWHOF Biography:
2007 Advocate William Nealy, widely regarded as "Whitewater's Poet Laureate," was one of the best known ambassadors of the sport. He brought a self-deprecating sense of humor and wealth of practical knowledge to all of his work. He captured the essence of whitewater paddling and whitewater paddlers. The quality of his work transcends its subject, and remains an art form all its own.
However, I DID get a chance to meet his widow, Holland Wallace; and last year I was entrusted with his complete archives to inventory, category, and display here at the Nantahala Outdoor Center.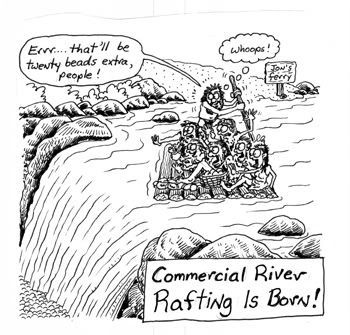 As a whitewater rafter, the above cartoon has found a very special place inside me as part of my identity. But William Nealy was about so much more than whitewater. The first cartoon in this post, Waiting on Godot, is as much an example of his wry wit, his sense of humor, his cultural literacy, his politics and his intelligence as any of the brilliant whitewater river maps he drew or his kayaking or inline skating or mountain biking illustrations in his instruction manuals.
While William won't be with us to be physically inducted into the International Whitewater Hall of Fame, his life's work will be. And as the nobility of the Whitewater World arrive for this great event, not only will it be a pleasure to welcome them, but it will be my distinct honor and privilege to open the William Nealy Archives and to display not only the originals of the above two cartoons, but all of the works that earned William's place in the International Whitewater Hall of Fame.
Thanks for reading.
Technorati Tags:william nealy, nantahala outdoor center, international whitewater hall of fame, whitewater rafting, whitewater, rafting, godot, waiting for godot
Generated By Technorati Tag Generator