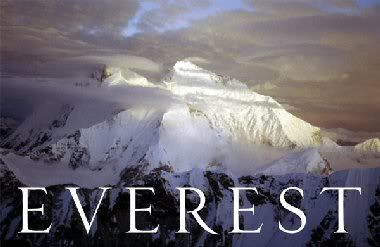 Sadly, it is not unusual during a climbing season for climbers to die on Mt. Everest. But for those of you following the various ascents this year, there has been a new wrinkle.
New Zealand climber Mark Inglis, a double-amputee who climbs on prosthetic legs, was one of many who passed British climber David Sharp, 34. Sharp was trying to climb the mountain alone. He died after he apparently ran out of oxygen 300 meters below the summit.
Inglis said his party was the only one among about 40 climbers to stop and help Sharp as he lay in Everest's "death zone", above 8000 meters. He said his group kept climbing after deciding there was nothing they could do to save Sharp.
"He had no oxygen, he had no proper gloves," Inglis said. "He was effectively dead … so we carried on. Trouble is, at 8500 meters it's extremely difficult to keep yourself alive, let alone keep anyone else alive."
Sir Edmund Hillary, who with Tensing Norgay were the first to summit Everest, slammed the behavior of Inglis' group, saying there was a lack of ethics among climbers. Hillary said that his 1953 British team would have abandoned its summit bid if another climber's life had been in danger.
"I think the whole attitude towards climbing Mount Everest has become rather horrifying. The people just want to get to the top. They don't give a damn for anybody else who may be in distress and it doesn't impress me at all that they leave someone lying under a rock to die."
I am certainly no expert in decisions that are made at the top of the world. But in first aid at least, the number one rule is "Don't become a victim yourself." When you jump into a situation attempting to save others, do not put yourself into danger or risk injuring yourself in your attempts to help someone else. As callous as it might sound, it's better to have one victim than two.
But extreme situations sometimes call for extreme action, and there is no more extreme situation than high on Mt. Everest. Granted, just being there is a death-defying act. But when someone is still alive and clearly will not stay alive for long without help, ethically, what type of obligation do others have on the mountain?
Closer to home, last week I attended a training session at my company's corporate office along with sixteen other participants. But while I was 100% engaged and participating and contributing to the group workshops to the best of my ability, it was clear others were not. At the end of the week, two of the participants lost their jobs. And I can't help but wonder how my actions were identical to those climbers on Everest who just climbed on, passing another in clear distress, and letting him die.
At what point, in a group situation, does it become incumbent on you to reach out to other group members in distress? If not a physical distress, then a self-destructive distress that is leading an individual down the path of failure?
I think that it is important that these questions be asked. Not just because it might save a life in an extreme environment such as high on Mt. Everest, but because they are questions that all of us will face at some point in our professional lives.
Thanks for reading.