I just figured out what's wrong with me! (Well, one of the things that's wrong with me, anyway.) I am suffering from Kona Coffee withdrawal. That's right, you heard me. Kona Coffee Withdrawal.


"Kona coffee has a richer flavor than any other, be it grown where it may and call it by what name you please."
Mark Twain, 1866
In 1997 I went to Hawaii for the first time and stayed on the Big Island for a week. During this time, I really fell in love with coffee. But not just any coffee.
Kona
Coffee.
The first time I tasted Kona Coffee was on the flight from Honolulu to Hilo. It was an early morning flight after an exhausting flight to Oahu from Detroit the previous day. I was worn out from travel and suffering from jet lag in a major way. And then the most miraculous thing happened, the flight attendants started serving 100% Kona Coffee to everyone on the plane. Never have I tasted such a smooth, rich, and invigorating cup of coffee.
Well I became addicted. Everywhere I went on the Big Island, I drank Kona Coffee. When I returned home I was spoiled for life. Most of the coffee I drink now is just swill. It doesn't matter if it's Starbucks, Caribou, Panera, Einstein Brothers, or Speedway. It's just swill. And if I don't add copious amounts of cream and sugar, it's just not palatable at all.
But Kona Coffee! Ahhhhhhhhhhhhhh. It's the only coffee I can drink black. If you've never tried 100% pure Kona Coffee, you are missing out.
Have you perked up a bit reading this? Are you intrigued? Then I recommend that you visit the following sites and ordering a sample of the one, the only, the 100% pure: Kona Coffee. But I warn you: Once you've reveled in the light, there is no going back.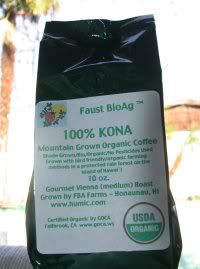 Aikane Kona Coffee
Coffee Times
Gevalia Kaffe
Kona Blue Sky Coffee
Kona Coffee.Com
Kona Coffee Cultural Festival
Holualoa Kona Coffee Company
Kona Coffee Council
Langenstein Farms
Maui Coffee Company
Sugai Coffee
Want to know more? The following article regarding the history of Kona Coffee was written by Les Drent and is reprinted from the
Coffee Times Website
.
"It has been many years since Reverend Samuel Ruggles brought the first coffee plant cuttings to Kealakekua-Kona, Hawaii. The cuttings were taken from plants growing at the home of chief boki, governor of Oahu, who with help from agriculturalist, John Wilkinson, brought back several young plants acquired in Rio de Janeiro during a royal British voyage taken in 1825.
Even though coffee was in Kona in 1828 it was not immediately seen as a viable agricultural commodity. However, the particular conditions in Kona's climate and soil turned out to be some of the best known in the world for growing coffee. The sheltered and fertile western slopes of Mauna Loa and Mt. Hualalai along with sunny mornings and gentle afternoon rains helped the coffee plant thrive in its new environment. Soon enough coffee caught on in Kona, and its distinguished flavor became known throughout the world. In July of 1866 Mark Twain stated, in his "Letters From Hawaii", Kona coffee has a richer flavor than any other, be it grown where it may and call it by what name you please."
It was not until the late 1800's, the period following the California gold rush, that the coffee industry in Kona saw its first boom. In 1898 the Kona hillsides were consumed by coffee trees; over three million of them spread out over six thousand acres.
In the late 1800's and early 1900's the initial steps involved with processing the coffee were in most cases undertaken by the independent farmers themselves. This involved hand-powered pulpers, a sixteen hour soaking period and drying the beans under "false" pitched roofs that rolled back to receive the warm sunlight. Local mills in Kona then removed the final parchment membranes and loaded the grated beans into sacks before being carried down the mountain in mule powered freight wagons. The last leg of the journey began at either Kailua or Napoopoo piers where the coffee was shuttled by boats out ot waiting steamships bound for San Francisco.
Today, very little has changed from the coffee culture in Kona as many of its farms continue to be owned and operated by independent families. There are now mills in the area that fully process the raw coffee cherries for brew guaranteeing that the hand picked beans get the full flavored roast they deserve, right here in Kona, Hawaii.
All of our beans at Coffee Times are hand picked, sun dried and undergo stringent grading standards to uphold the gourmet reputation and quality in every cup of coffee. And, unlike some of our competitors we only roast to order, so if it's freshness you seek it's freshness you will receive.
The true taste of 100% pure Kona Coffee now awaits you, so from my Coffee Times to your coffee times enjoy Kona's very best."
Thanks for reading.