During the month of June, your chances of observing meteors are high. After viewing these pictures of meteors captured on film, scroll down for helpful observation hints.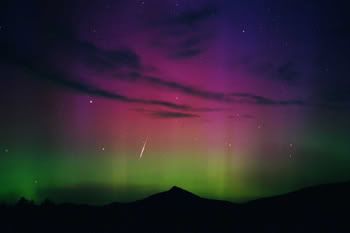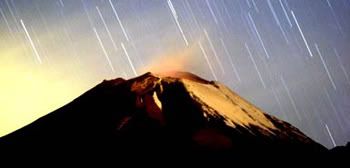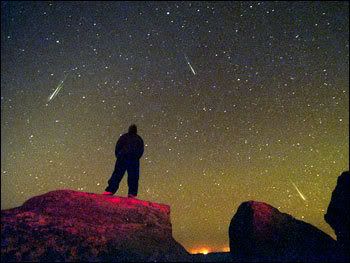 June 3
Tau Herculids
: Radiant--near Corona Borealis. About a month long, 15 per hour max, most quite faint.
Observing: The duration of this shower extends from May 19 to June 19. Maximum occurs on June 9, from an average radiant of α=236°, δ=+41°, with the average magnitude then being about 4.
History: The discovery of this meteor shower occurred as a result of the discovery of its parent comet. The latter discovery occurred on May 2, 1930, when plates exposed by A. Schwassmann and A. A. Wachmann (Hamburg ObservatoryBergedorf, Germany), during a regular minor planet survey, revealed the diffuse image of a comet. The saga of the Tau Herculids unfolded a short time later at Kwasan Observatory (Kyoto, Japan).
June 5
Scorpiids: Radiant--near Ophiuchus. 20 per hour with some fireballs.
June 7
Arietids: About 30 per hour. Slow moving with some fireballs.
June 13
Ophiuchids: Radiant-- near Scorpius. Only 3 per hour but fast moving bolides are common. Duration--25 days
June 16
June Lyrids: Radiant--near Vega. Another part of May Lyrid meteor stream. 15 per hour, faint blue meteors.
June 20
Ophiuchids: Radiant-- near Sagitarrius. Rate varies from 8 to 20, with occaisionally many more.
June 30
June Draconids: Radiant--near handle of Big Dipper. Rate varies from 10 to 100 per hour. Pons-Winnecke Comet is parent.
Thanks for reading.
Technorati Tags: june meteor showers, meteor showers, comets, tau herculids, scorpiids, arietids, ophiuchids, lyrids, draconids, observations, observing, star gazing, astronomy, almost wordless wednesday
Generated By Technorati Tag Generator