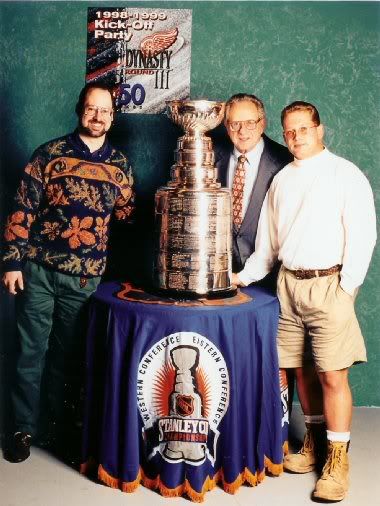 Me, The Stanley Cup, Dad, My Brother Doug, circa 1998
No father is perfect, and growing up as children and young adults, we don't know what a normal experience is growing up, we don't know what a deprived childhood is, and we don't know what a privileged childhood is. We simply know what growing up was like for us.
I grew up in a family of four boys in a very affluent community in one of the Top 5 richest suburbs of Detroit. Looking back on that childhood now, while I certainly didn't appreciate it at the time because our family had considerably less money than the other families in the neighborhood and the kids in school always had nicer clothes, went away on more exotic vacations, and always had the newest toys; my childhood was a privileged one.
There were certainly a lot of problems, most of them revolving around money and the divorce of our parents when my brothers and I were still in grade school, but life was really good: we always had a warm bed in which to sleep, great food on the table, an excellent education, good health and great medical care, and we also got to do some really cool things because of my father's position as a lead account executive at TV50 in Detroit.
My brothers and I, beginning as young children, had the privileges of attending the latest concerts, theater, art shows, movie openings and sporting events. As my father always had clients to entertain, frequently we were able to join him in the TV50 Suite at Tiger Stadium and Comerica Park, Cobo Hall, the Pontiac Silverdome and the Palace of Auburn Hills, Olympia Stadium, Joe Louis Arena, Pine Knob Music Theater, Michigan Stadium.
We had the opportunity to meet professional sports heroes, and two of my brothers were even Ball Boys for the Detroit Pistons, and my youngest brother Brad, who goes by Bubba as a gift from the Pistons, was their head ball boy when they won back-back NBA Championships. Brad even got to fly to Portland with the team and was in the locker room celebrating victory in 1989, and his photo appears with Chuck Daly, Isaiah Thomas, Joe Dumars with the NBA trophy on the back of Chuck Daly's autobiography. The picture above was taken at a TV50 Party honoring the Detroit Red Wings Stanley Cup Championship in 1998 and to kick off the 1998-1999 season.
That's right, I got to touch the cup.
But you know, growing up, I never really understood how good we really had it. And although my father was not a perfect one in many ways, he did an awful lot of things right; and if I am to be honest with myself, I am in very large part the person I am today because of him. I share many of his traits, even the imperfect ones that I always criticized him for.
It's hard to appreciate the really good things in life. As the saying goes, you really never know what you've got until it's gone. Here in the United States, as we celebrate our fathers and begin to think about them on this one special day, we have collectively, as a country, lost a great one.
I think that Tim Russert has always been well-respected and loved. Nobody anticipated his untimely death yesterday at the age of 58. But I think the feeling of "shock" that he's gone is a rather universal one for Americans. In addition to all the other great things that have always been said about Tim Russert is that he was a great father.
I've been fortunate in that my father is still alive. Dad turned 76 last Saturday. No one can say how many Father's Days any one man will have, but I think it's important to realize that life is short, and it's important to recognize and to know what we all have and appreciate it before it is gone.
Dad, there were a lot of things that you did that I didn't especially like or agree with growing up, but you always made sure my brothers and I were safe, you always provided for us, and you always bailed us out in times of need. And you made possible a lot of wonderful perks for us growing up that most kids never get a chance to experience even once, but that for us were routine.
So, this is to thank you for all the things that were great and that were privileges. I'm learning to appreciate them more and more every passing day--especially these past couple weeks as the Red Wings won another Stanley Cup, and as Tim Russert has passed away.
I love you Dad.
Thanks for reading.
In Memoriam of Tim Russert
Technorati Tags: father's day, tim russert, detroit red wings, detroit pistons, detroit tigers, detroit lions, horseracing, dads, fathers
Generated By Technorati Tag Generator