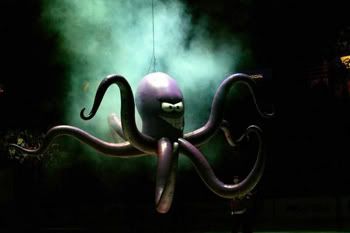 Maybe it had something to do with the Octopus that was thrown onto the Igloo Ice just prior to the opening face-off. Maybe it had something to do three-time Stanley Cup winner Darren McCarty back in the game while Tomas Holmstrom sat out with injury. Maybe it had something to do with the Swedish 5 on 3 Penalty-Killing Trio of Lidstrom, Zetterberg and Kronwall. And just maybe it had something to do with the continuing exceptional performance of Chris Osgood who made great save after great save in Detroit's 2-1 win over the Pittsburgh Penguins in Game 4 of the Stanley Cup Finals.
But whatever it had to do with, it felt great watching the game and Detroiters all over the world are standing tall this morning as Detroit takes a commanding 3-1 lead going into Game 5 Monday night at Joe Louis Arena, where the Red Wings have the opportunity to win their 4th Stanley Cup Championship in 11 years, and the first with Nicklas Lidstrom as Captain.
Red Wings Captain Nicklas Lidstrom Talks About Chasing the Dream
Lidstrom is almost a lock for his 6th Norris Trophy, which is awarded to the NHL's best defenseman. But Chris Osgood seems to be a lock for the Conn Smythe Trophy, awarded to the Stanley Cup Playoff's Most Valuable Player. Never did this seem more of a certainty than last night in Pittsburgh.
Osgood provided his best game of the playoffs. He made two brilliant point-blank saves on superstar Sidney Crosby, another two on Pascal Dupuis and stopped Marian Hossa and Evgeni Malkin on power-play attempts. "Oz, unbelievable," three-time Cup champion Kris Draper said. "His composure, he just seems to continue to make big saves at key times."
"We worked hard," Draper said. "We earned this. We won in a tough building. We'll take it all in and get ready for the biggest game of the year for our team."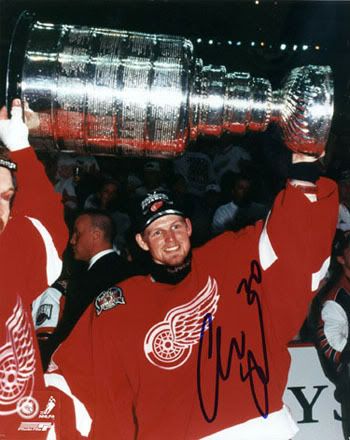 Chris Osgood hoisting the Stanley Cup Trophy in 1998
But the game didn't start out all rosy for Detroit. A hamstring injury kept out first-line winger and power play specialist Tomas Holmstrom, and his announced absence was greeted with wild cheering by fans. At least one fan, though, must have been on the Wings' side, for someone with enough wile to escape notice had sneaked in an octopus and managed to hurl it onto the ice just as the anthem ended, just as is done at Joe Louis Arena.
If that gave the Wings a lift, it didn't last long. Dallas Drake's decision to run into Ryan Whitney from behind gave the Penguins an early power play and soon after the coveted first goal. Hossa had the puck by the right side of the net and faked as if to go behind only to curl his stick back and find a gap Osgood didn't close, giving Pittsburgh a 1-0 lead at 2:51 of the first period. A shift later, Hossa's shot clanked off the crossbar and out front.
The goal seemed to unsettle the Wings, who played several bad shifts afterward. The Penguins scored first and were backed by an intimidating 17-game winning streak at home, but the Wings just kept going back to their blueprint and kept driving into the Penguins' zone.
Nicklas Lidstrom, within a victory of becoming the first European born-and-bred player to captain a team to the Stanley Cup, scored the tying goal and later helped kill 86 seconds worth of a two-man power play during the third period. "It's always a good thing when he winds up with that slap shot with his head up like not too many other guys in the league," Draper said. "That was a big goal. The timing was as important as anything."
Detroit's Hudler scored 2:26 into the third period after Pittsburgh forward Gary Roberts turned the puck over in Pittsburgh's zone. Brad Stuart made a heads-up play to keep the puck in the zone and sent it toward the net. Darren Helm hit Pittsburgh defenseman Brooks Orpik to keep him from getting the puck and was able to forward the puck to Hudler, who picked it up and snapped a backhander between Marc-Andre Fleury's right elbow and the near post, giving the Wings their first lead since Game 2.
"Stuie kept it in the zone and Helm was back-checking and he lifted his stick, so I turned around before the puck came to me and I put it on the net, tried to higher," Hudler said. "It's was kind of lucky, but we'll take it."
Lively skating and puck handling were interspersed with hostile scrums and between-whistles stare-downs and big hits, with Andreas Lilja crashing Maxime Talbot into the boards and Roberts crunching Darren McCarty into the glass as the chippiness of the series grew.
The Wings' great strengths throughout the playoffs have been resilience and patience, a willingness to keep plugging away and going to their depth. Saturday it was Hudler, a fourth-line winger and power-play guy, one of the smallest men on the team, who came through with a huge goal, sending the Penguins reeling and rolling the Wings along toward hockey's ultimate prize.
Perhaps we'll see that prize hoisted high, Monday night in Detroit.
Thanks for reading.
Technorati Tags: detroit red wings, stanley cup finals, nhl, game 4, pittsbugh penguins, igloo, mellon arena, joe louis arena, detroit, chris osgood, nicklas lidstrom, jiri hudler, kris draper, henrik zetterberg, darren mccarty
Generated By Technorati Tag Generator