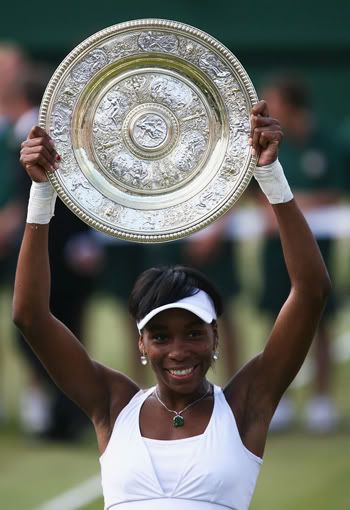 Two-Time Wimbledon Champion Venus Williams
As any tennis lover knows, today is the Middle Sunday of the fortnight known as the Championships of Wimbledon. True to form, the first week of the Championships has been not only exciting, but in some ways shocking in that so many of the top seeds have fallen. But two of America's favorites, Venus and Serena Williams are still in it and are doing just fine, thank you very much, on their own.
Having just been named to the United States Olympic Team, both Serena and Venus are on a roll--and Venus has just set a record clocking the fastest women's serve ever at the All England Club at 127 mph!
Some of my friends are actually heading to Wimbledon tomorrow in the hopes of seeing Venus and Serena play each other in the final--which remains a real possibility. However, my friends are so geographically dyslexic, I know they're going to need help in finding their way to the stadium.
Fortunately for them, Britain has it's own online directory equivalent to America's 411 or Switchboard:
We Love Local
. Using We Love Local, my friends will be able to discover hotels, restaurants, bars, dry cleaners, museums, train stations, coffee houses, gift shops and more not just around Wimbledon, but throughout Britain so they'll be able to get information about unplanned side trips.
The
We Love Local
Website is really easy to use. Just like the yellow pages online, you type in the kind of business you're looking for, you type in the city you hope to find one in, and the website displays businesses matching your search on a Google Map.
I've recommended that my friends visit Glasgow in Scotland. I've always wanted to go to Glasgow, well at least since 1980 when Glasgow was mentioned in ABBA's Super Trouper. And using
We Love Local
, I found a really interesting hotel in seconds called "The Piper's Tryst." If nothing else, it's an interesting name and the hotel probably offers a different hotel experience than your usual Holiday Inn Express.
In any case, when traveling in Britain, there's a new website out there to help you find what you're looking for.
We Love Local
is easy to use, comprehensive, and should be the first place you go online prior to your visit, or in the case of my friends, after they arrive--because I have no doubt that shortly after their plane lands at Heathrow, they'll quickly become lost and need a most reliable guide.
Cheerio!