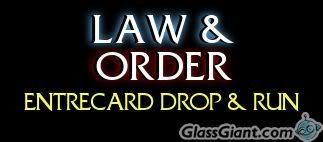 My dear friend Bree over at
Roxiticus Desperate Housewives
has tagged me with the "Complaint Meme." I really don't have anything to complain about because I'm such a happy and well-adjusted guy. However, as you learned earlier this week in my post on Edvard Munch's
The Scream
a good scream can be a cathartic cure of existential angst. But I digress.
I've belonged to several Blog Traffic Sites designed to increase traffic to bloggers. However, I have never seen so much complaining about a site as I have hear on EntreCard, and I've only been on EntreCard for a couple weeks. First there was the complaining about the change in the point system, and then there was the complaining about the placing of the EntreCard widget on the blog, and then there was complaining that while EntreCard does increase traffic to a site, it really doesn't generate that many regular readers as Desperate Bloggers just "Drop 'N Go."
My response, everyone, is please, just give it a rest. Seriously.
These Blog Traffic sites are FREE. These Blog Traffic Sites generate traffic. They are also fun. In the two weeks I've been a member of EntreCard, my Alexa Rank has gone up from 16 million to 3 million. Not that I care, I'm not blogging to make money. But EntreCard works. But do I really expect that all members who find my site are going to become regular readers? Well no!
The truth of the matter is, I drop n run. But while the site is loading and while I'm searching for an EntreCard, I come across some blogs over and over again. In just the few seconds it takes for me to scroll, I can read a headline. I can look at a graphic. If something attracts my attention, I'll stop and read. If it doesn't or if the site is not updated often, I just drop my card and move on. I think most people pretty much do the same. This doesn't mean a blog traffic site doesn't work, it means your content isn't as appealing to the entire blogosphere as you thought it was. So don't blame the Blog Traffic sites bringing traffic to your site.
Personally, in two weeks, I've found about 20 blogs I read regularly now and I've made some new friends and a couple of really good friends. This stuff takes time. It takes work, and you have to comment and build relationships with other bloggers. No blog traffic site is a miracle cure. If you want traffic, you have to take time to interact with other bloggers and build a critical mass. If you're willing to do that, that all these Blog Traffic Sites are 100% successful as the TOOLS they are intended to be.
Thanks for reading.
And now, to fulfil the Meme:
Complainer's Corner

Compose a "Complaint (serious, funny, or even a blatantly obvious add for your own site.)
Choose a graphic from

HERE or HERE or use your own. (Any standard graphic format can be used, including a "gif".)
You can either place your "Complaint" into a graphic using a graphics program of your choice, or place your "Complaint" as a caption to the graphic, your choice. BE CREATIVE! A graphic is requested but not mandatory. I will post just the "Complaint" if you wish.

Send your "Complaint" to the following email address:

Complain(at)ComplainComplainComplain(dot)com

or Post your complaint on your site and email me the link.
On emailed statements, please include:


Your Complaint (unless it is embedded in the graphic)
Creative title to your complaint

Graphic (if you have one) as an attachment

Your Site name (Anonymous will be be accepted)
Your site's URL
Country / State / City where you reside (just the country will be okay)

Your "Complaint" will have its own URL with a direct link back to your site, if you have one. It will be indexed on my sidebar by date, number, subject and your site name/your name/or Anonymous. Send in as many complaints as you'd like. If you choose to remain anonymous, no identifying information will EVER be disclosed to anyone.
You are encouraged to post the "Complaint" on your own site and please copy the following statement at the end of your post, if you would be so kind. This does come with a generous helping of "link-love," and tagging is completely optional.
*Start Copy*
In order to be able to achieve and maintain happiness we need to,
actively
, be able to do two things:
Complain and then let go (Dump the baggage, the roadblocks to happiness.)
Express Gratitude (The open expression of gratitude promotes happiness.)
After all everyone has something to be grateful for and/or something to complain about. If you would like to participate, please follow the appropriate link and do so: "
Are You Grateful?
", "
Complain Complain Complain
."


Contributors to
"
Are You Grateful?
" & "
Complain Complain Complain
.

"
:
1-Attitude, the Ultimate Power 2-Max
3-DianaCA's Metamorphoses 4-Mental Poo 5-My Thoughts 6-Baba Doodlius 7-Wake Up America 8-
Life is a Roller Coaster 9-Life is Beautiful 10-pinay mommy's love blog 11-My Happiness Haven 12-
And Life Goes On for a Filipino Mom
13-Blessed Sanctuary 14-Expressions And Thoughts 15-Memories by Jenn 16-Reminiscence of My Adventures 17-In the Life of Mne 18-Juliana's Lair 19-Pinay Wahm 20-Lucid Creativity 21-Winged Words 22-Irresistible Fascinations 23-A Little Time 24-See Me For What You Will 25-Greatest Reviews 26-ETC ATBP 27-Gandacious 28-We Are Family
29-
Journey to this thing called LIFE
30-
www.rajeshrana.net
31-
www.rajeshrana.com
32
-BaReFooTeD Me 33-Uncomplicated 34-Points of View 35-Pride & Prejudice 36-Colorful World 37-Nora's Notes 38-A Daily Walk With Bill & Gina 39-
Strange but True
40-Everything Under The Sun ( Beth Rebokon ) 41-Kaleidoscope 42-Fil-Oz Blog 43-By Osc@r Luiz
44-
Comedy Plus
45-
Blogging by Sandee
46-Soul Meets World
47-Mae's Memoirs 48-Beyond the Rave Reality
49-Amori, poesie, arte, chat by Hanna
50-Attached at the Hip 51-Carver's Sight or is that Site? 52-Empress Reviews 53-Simple Pleasures In My Heart 54-Lourdes' mia
55-A Grateful Heart 56-Majorsleepyhead 57-Scrappy n Happy in Ohio
58-CHOC MINT GIRL
59-Extraordinary Things 60-ZOOROPAZOO 61-
BeNolSatuEm
62-
As The World Turns 63-Your Caring Angels 64-Life Is Wonderful To Know Everyday 65-Sugar Magnolias 66-Little Peanut 67-Creative In Me 68-Me and Mine 69-Pea in a Pod 70-the diary of the Pink & Brown Wedding 71-good thoughts, good trades, good life 72-My Blog - all things me 73-Rainbows 74-Little Corner of Mine 75-Me, Myself and I 76-My Planet Purple 77-Amel's Realm 78-A Handful of Surprises 79-A Detour 80-Something Purple 81-Vanity Kit 82-Are You Grateful? 83-A Simple Life 84-BlogTips.Com 85-Balitang Kalye 86-Mariuca 87-Emila Yusof 88-A Total Blog 89-My Life in this Wonderful World 90-MommyAllehs 91-Things That Suck 92-A Mother's Stuff
93-Princess Vien 94-My Inner Thoughts Revealed 95-Roxiticus Desperate Housewives 96-Apples Of The Eyes
97-
Nita's Random Thoughts 98-Nita's Corner 99-Thomas Digital Services
100-
A Mother's Thoughts
101-YOU
Technorati Tags:entrecard, blogging tools, web traffic generators
Generated By Technorati Tag Generator