Monday night on Dancing with the Stars Kristi Yamaguchi and Mark Ballas received their first Perfect 30 and really, for the first time, separated themselves from all the rest of the competitors this season.
Kristi and Mark have led from the start, and I don't think it's really a surprise to anybody. Kristi was expected to do well as an Olympic Figure Skating Champion. Afterall, posture, balance, athleticism and choreography are the heart and soul of both figure skating and competitive ballroom dancing. But I don't think anyone really expected how much Kristi would dominate: She's been on the top of the leader board every single week since the competition began, and no one has been able to step up and really challenge her.
Last week, Pro Football Man of the Year Jason Taylor came close. This week, Mario had his best dance of the season, but his dance was still two points behind Kristi's.
In last place, Marlee Matlin, the deaf Oscar Winning Actress is scoring a moral victory. She can't even
hear
the music, but is still getting sevens across the board. But everyone else, Tony winners, actresses, singers...they can't touch Kristi, and I believe it has something to do with what makes up a sports champion.
Every season, the competition on Dancing with the Stars has become more competitive. Past winners include Emmit Smith, Apolo Anton Ohno, and Helio Castrovenes. Kristi Yamaguchi seems to be next in line. All four of these DWTS winners are champions of their respective sports. In football, in short track speedskating, in race car driving--timing, precision, balance, athleticism, stamina, flexibility, posture, and what only can be described as that killer instinct that all true champions possess are key to doing well in competitive ballroom dancing, and all these former champions, along with Kristi, have brought these qualities to the ballroom. The only other element needed to win is showmanship.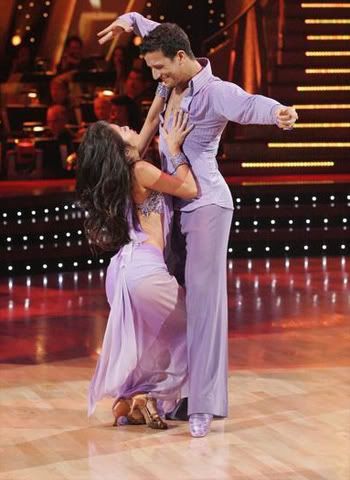 Emmit, Apolo, Helio...all three needed help in this department. All three needed to come out of their introverted shells. All three needed to open up to their dance partners; and as they did so, their scores increased from week to week to week. The difference between the three of them and Kristi, however, is that Kristi had the showmanship down from the beginning.
As an Olympic and World Champion Figure Skater, Kristi made her career performing before a crowd to get those old "Artistic Impression" scores. But what the majority of those watching Dancing With the Stars don't know is that Kristi also honed these skills performing with a partner.
Almost every week, Carrie Ann Inaba or Samantha Harris asks Kristi "Are you
sure
you've never done this before?" And Kristi shyly demurs. And in truth, she hasn't done ballroom dancing before. But did you know that she is a two-time
Pairs
US Champion in Figure Skating, finishing 5th in the world twice in 1989 and 1990 and is a Former World Junior Pairs Figure Skating Champion?
It's true. Kristi Yamaguchi is one of those rare athletes that competed in multiple figure skating events. She loved singles, she loved pairs; and she was awesome in both. But in 1990, her Pairs Coach Jim Hulick died of AIDS, and without the support of her coach, she parted ways with her partner Rudy Galindo, who won the US Singles Championship in the mid 1990s. As a pair, Kristi and Rudy would have been unstoppable had they continued to develop. They were doing throws and the hardest triple jumps that were head and shoulders above their contemporaries in difficulty. But what they didn't have was the smoothness and artistry of the best pairs.
Part of the reason why was that Kristi was splitting her time between Pairs and Singles Skating, where she was ranked 4th in the U.S. behind Jill Trenary, Tonya Harding and Nancy Kerrigan. Kristi was often advised that if she focused on singles alone, she would quickly improve and would likely be a lock for the Olympic Gold Medal. So without her long time Pairs Coach, Kristi left Pairs Skating, focused on Singles, and quickly rose to the top, winning her first World Championship in 1991 and setting herself up nicely for Olympic Glory in Albertville.
But in terms of Dancing with the Stars, I'm not sure if anyone knew about her Pairs Skating background. When it comes time to do lifts in the free dance, Kristi's got it down. She used to be thrown 25 feet across the ice in a throw-triple salchow and change positions
four
times while Rudy held her above his head as he skated the length of an ice arena. If she can do all that on ice, what could be difficult about a ballroom?
I believe what's important however, and what we all can learn from, is that to be the best and to become a champion in anything we do, we only need to look to Kristi Yamaguchi. Focus on the goal, whether it be singles skating or ballroom dancing, dedicate yourself to your task, and no matter what adversity comes your way--whether it be overcoming a physical disability (as we learned last night that Kristi was born with clubbed feet), or mental anguish (the death of your coach and the breakup of a promising pairs team) always stay positive and keep the goal in sight.
And in Kristi's case on Dancing with the Stars, it doesn't hurt to have a lifetime of performing to draw on that she can transfer from the rink to the ballroom.
Thanks for reading.
Technorati Tags:kristi yamaguchi, dancing with the stars, mark ballas, champions, competition, sports psychology, pairs figure skating
Generated By Technorati Tag Generator