Yesterday I was shocked when a sample copy of new magazine appeared in my mailbox. Nothing was shocking about the magazine showing up, I subscribed to it. But when I started thumbing through it, I came across an article titled: "Our Saudi Sized Reserve: What happens when an oil field as big as any in the Middle East is discovered in the desolate border towns of Montana and North Dakota?" my jaw just dropped.
"Could this be true,?"
I thought, as I quickly read the article. I didn't believe it. My magazine was a new publication. I needed corroboration. I googled MonDak. I got one article, published January 17th online from the Missoula News to corroborate MonDak. The Missoula News? Are you kidding me? For a story like this? More oil in Montana and North Dakota than in Saudi Arabia?
I went to technorati and searched the blogosphere. Almost nothing. Only
ONE BLOG
is writing about this immense oil field, not in our backyards, but ON OUR OWN SOIL!
How is this possible? How can this be? What is wrong with this picture?
I don't have the answers yet, but this is what I know:
Formed during the Jurassic Period, there is anywhere between 100 and 500 billion barrels of oil in the border country between Williston, North Dakota and Sidney, Montana, near where the Yellowstone River flows into the Missouri.


The oil lies in a formation known as the "Bakken Formation."


The Bakken Formation is the biggest inland oil find in the United States in 50 years.


It MIGHT contain 200 billion barrels of oil.


Last year, Montana pumped about 3 million barrels a month out of its side of the Bakken--about 45 times more than the field produced in 2002.


So if all this oil is there, or could be there, how come we haven't heard of it and how come nobody is going after it?
Well, we are. Kind of. Apparently there's some difficulty. First off, the oil is two miles down. Secondly, the extent of the formation has not been substantiated yet--at least that's what the reports say. I say hogwash!
Sidney, MT is now an oil boom town and Williston, ND is close behind. Sidney has negative unemployment. All those who used to work in downtown stores and restaurants are leaving to work in a $50+/hour oil job. Owners of the land where the drilling has taken place have already received $1.1 million royalty checks. You don't pay out that kind of money is nothing there. Haliburton and Conaco are on site, along with some local drilling outfits. Montana and North Dakota are the only states that have increased oil production in the last five years.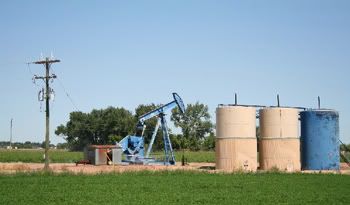 Oil Well in Sidney, Montana
So my questions are: If the oil companies are there, if the towns are booming and there aren't enough laborers for the jobs, if an oil supply as large as Saudi Arabia's is suspected,
1. WHY DON'T WE HAVE ALL OUR NATION'S RESOURCES DEPLOYED TO VERIFY THE EXTENT OF THE BAKKEN FORMATION, AND
2. WHY IS THIS NOT INTERNATIONAL NEWS?
Something just doesn't quite add up. I can speculate until the cows come home, but that would hurt my credibility, so I'll just post what I know and ask questions. And I encourage you to do the same. Google "MonDak". Google "Bakken Formation". And publish what you find.
Thanks for reading.
Technorati Tags:bakken formation, mondak, montana oil fields, north dakota oil fields, oil dependency, gas prices, saudi arabia
Generated By Technorati Tag Generator