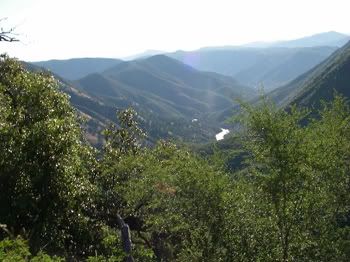 Friends,
Please take one minute to help protect the Tuolumne River.
The Tuolumne River is one of the Jewels of Yosemite National Park, but back in the early 1920s, the Tuolumne River was dammed to provide drinking water for the growing metropolis of San Francisco, and so much of the Grand Canyon of the Tuolumne in Yosemite was flooded and a valley every bit as beautiful and dramatic as Yosemite Valley was destroyed. Ever since, it's been a battle to to preserve the Tuolumne, one of the United State's Wild and Scenic Rivers, from increasing water usage demands from the city of San Francisco.
Would you mind taking just one minute to help protect the Tuolumne River by encouraging sustainable use of the water supply in San Francisco?
Here's how:
Yesterday the San Francisco Public Utilities Commission (SFPUC) voted to increase its water conservation budget from $1.8 to 2.8 million per year, a 64% increase! This is great news, because every gallon saved stays in the Tuolumne.
Please take one minute to send an email to the SFPUC Commissioners thanking them for their vote. It's important for them to see that hundreds, if not thousands, of people are paying attention to their actions. This will help us when it comes time for them to vote on the Water System Improvement Program. If you're associated with an organization, please mention that too.
Your message could be as simple as this:
Dear Commissioners,
Thank you for voting to increase the SFPUC's water conservation budget by $1 million per year. This will help make San Francisco a more sustainable city while protecting the Tuolumne River.
Sincerely,
(Your Name)
Of course, if you want to say more, that would be great, just don't let it get in the way of sending something. There's all sorts of great information available at http://www.tuolumne.org/content/index.php?topic=programs_bayarea
Here are the Commissioners email addresses:
acaen@sfwater.org
dhochschild@sfwater.org
rsklar@sfwater.org
LPatricio@sfwater.org
mhoush@sfwater.org
Thank you for helping to protect the Tuolumne!
P.S. The Tuolumne River Trust could always use your support. To make a donation online, please visit http://www.tuolumne.org/content/article.php/donate
For more information, please contact:
Peter Drekmeier
Bay Area Program Director
Tuolumne River Trust
Fort Mason Center, Building C
San Francisco, CA 94123
415) 292-3531 x301
peter@tuolumne.org
http://www.tuolumne.org
Thanks for reading.
Technorati Tags:tuolumne river, yosemite national park, water conservation, san francisco,
Generated By Technorati Tag Generator