As the Beijing Olympics are just months away, many of the athletes that will compose the United States Team will soon be competing in Olympic Trials for the right and honor to represent the United States.
Two weeks ago, the nation's elite whitewater slalom athletes competed at the U.S. Open Olympic Qualifier on the Nantahala River at the
Nantahala Outdoor Center
on the southern slopes of the Great Smokey Mountains just outside of Bryson City.
I had the privilege of working at the qualifier as a volunteer and I had the real honor of meeting of many of our Olympic Hopefuls, some very green as this was his or her first real competition, and some with sights on future Olympiads, such as young Nathan Sass, competing in his first ever whitewater competition.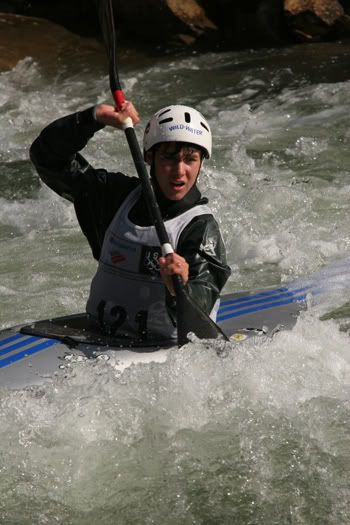 Nathan Sass in Action. Photo Courtesy of Hannah Cole
The Whitewater Slalom Event features men's and women's K-1, C-1 and C-2. K-1 refers to kayaking, sitting in a decked boat with a two-blade paddle; C-1 or C-2 refers to canoeing, kneeling in decked boat with a one-blade paddle. C-1 means there is one canoeist in a boat. C-2 means there are two canoeists in a boat, paddling in tandem.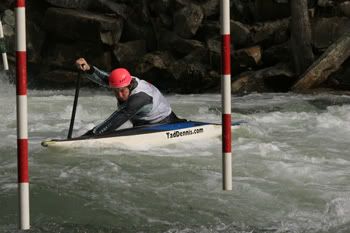 Tad Dennis Demonstrating C-1. Photo Courtesy of Hannah Cole
The Nantahala River is Tad Dennis' (home turf) and he finished third in the event in a tie with Erik Amason of Washington D.C. Both Tadd and Erik are among the nation's elite men's C-1 paddlers. Both have consistently finished in the top 3 in competitive racing over the last couple years, but there is only one spot available on the Olympic team for competitors in each event.
Erik Amason with the Upper Section of the Race Course Behind Him. Photo Courtesy of Hannah Cole
Like Figure Skating, the number of spots available for an Olympic Team in Whitewater Events are determined by the country's previous results in the prior year's world championships. As the US did not medal, the US has only one spot available in all whitewater slalom disciplines this year. But Scott Parsons is planning on making the most of our one slot.
K-1 Athlete Scott Parsons Paddling Hard. Photo Courtesy of Hannah Cole
Scott is among the world's elite and he has an excellent chance of winning a medal in Beijing. What color that medal may be is hard to say, as on any given day, the best in the world can all beat each other. Nobody knows that better than Eric Jackson.
ALL IN THE FAMILY
Eric Jackson
has been competing in all disciplines of whitewater for the better part of the last three decades. A multiple world champion in freestyle kayaking (think freestyle skiing--moguls, aerials, etc--but in whitewater), Eric is also a former Olympian and once again he has qualified for the Olympic Trials in Charlotte, NC later this month.
K-1 Athlete Eric "EJ" Jackson. Photo Courtesy of Hannah Cole
Whitewater is a family affair for the Jackson family. EJ's wife Kristine is on the nominating committee for the
International Whitewater Hall of Fame
as the Chair of the US Freestyle Kayaking Association, and both of EJ and Kristine's children, Dane and Emily are accomplished junior whitewater champions in both freestyle and slalom events as well as extreme high adrenaline Class V Racing.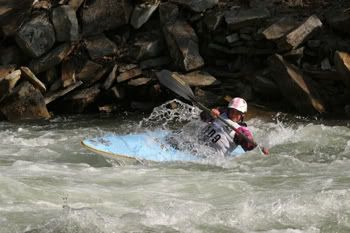 K-1 Junior Emily Jackson. Photo Courtesy of Hannah Cole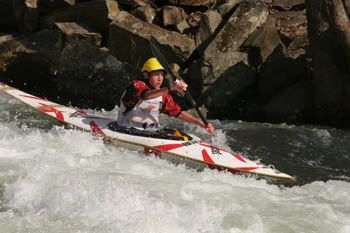 K-1 Cadet Dane Jackson. Photo Courtesy of Hannah Cole
PERSONALITIES
One of the really cool things about the US Open event was the chance to get to know these athletes. They are real human beings and quite fun to talk to and to be around. Olympic and World Champions are by nature dedicated, hard on themselves, and perfectionists. They are also driven and passionate and working hard to pursue a dream. But at the end of the day they succeed and fail just like we do in their pursuit to be United States Champions and Olympians.
Becoming the US representative for the Olympic Team is a process. It will consist of trial and error. Great results and not so great results. The important thing for these elite athletes and down-to-earth individuals is staying positive, learning from every race they participate in, and incorporating that and becoming a better athlete with every race.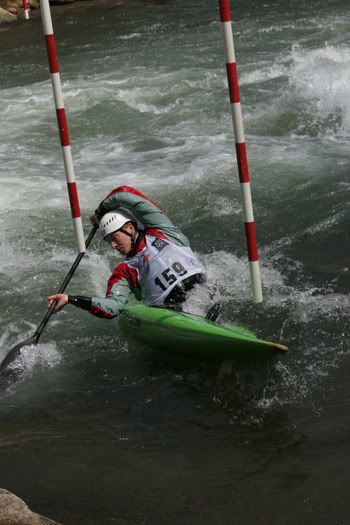 Erik Amason making an Upstream Gate. Photo Courtesy of Hannah Cole
Prior to the US Open, I didn't know a thing about whitewater racing. I've watched it on TV during the Olympics, but I didn't have a clue who the athletes were and what it took to become good at slalom whitewater racing. Even as a commercial rafter I was clueless. As a raft guide, as someone who knows the Nantahala River like the back of my hand, I know what it takes to execute moves like these young men and women do in every race they run. That stuff is hard!
Come the Olympic Trials in Charlotte in a couple weeks, I know all these athletes want to win the one slot available on the Olympic Team and the honor of representing the United States in Beijing, but sadly that won't happen. There will be a few winners, and a lot of disappointed elite athletes. Many of these athletes have trained for 10 years for a dream that only the very few will realize.
The thing is though, what these athletes have done, having a dream and the courage to work hard to attain it and to lay it all out there in pursuit of that dream is heroic. It's inspirational. It encourages me to get out there and try harder every single day to achieve my own goals--even if they aren't as lofty as an elite athlete's. To me, that makes these athletes all champions, no matter what results they achieve.
Erik Amason Running the Flush Gate at Nantahala Falls. Photo Courtesy of Hannah Cole
Thanks for reading.
Technorati Tags:olympic games, beijing olympics, erik amason, tad dennis, eric jackson, scott parsons, zuzana vanha, whitewater slalom, us olympic trials, nantahala outdoor center, noc, nantahala river, north carolina, charlotte
Generated By Technorati Tag Generator