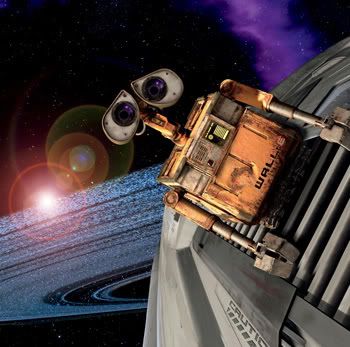 There has never been a robotic character to grace the silver screen with such a range of emotion and feeling and heroism and playfulness as
WALL-E
. (Perhaps only R2-D2 comes close.) WALL-E is an almost wordless movie. It has been suggested that perhaps
Pixar
bit off a bit more than it could chew trying to make a movie around a robot that only uttered it's own name and that of another robot in the movie. It has been suggested than since The Incredibles, Pixar had lost its way and had forgotten how to deliver as first Cars and then Ratatouille had not quite achieved the high emotional story standards Pixar had become known for; and with a movie centered around a robot that didn't speak and which had been abandoned to clean up an Earth covered in trash, it has been suggested that once mighty Pixar had succumbed to corporate mediocrity.
All I can say to those who doubted is that Pixar is not only back, but Pixar is stronger than ever with it's most magical, most human, and most meaningful movie yet.
My
Almost Wordless Wednesday
Posts are usually quite far from wordless, and this one is no exception. But if you are interested in an education on how to wordlessly convey emotion, I encourage you to go see WALL-E. The creative minds of Pixar have found a way to adapt
Beauty and the Beast
to the robotic mechanical realm and create a love story between machines more humorous than Number 5 and Ally Sheedy from Short Circuit and more emotional than the Tin Man's (or Star Trek's Data's) longing to have a heart and to
feel
. And they do it with a cast of robotic characters that are integral to the story, but which serve as comic relief nonetheless, and even a cockroach that actually gets the biggest gasps and laughs of all. Look for the scene with the Twinkie.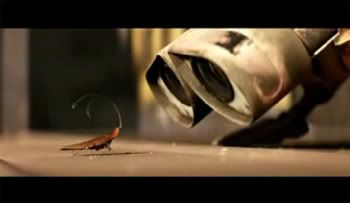 But what
really
makes WALL-E a great movie are the layers of subtext that are always there for the adult minds in the audience, and that subconsciously will really speak to the children.
The first layer is the nod to
2001: A Space Odyssey
. With the musical flourish of al Sprach Zarathustra and the automatic pilot "One-Eye" whose single-red light in the center of the tradtional Captain's Wheel, one can not help but recall a memory of
HAL
. WALL-E is a love story between two robots first and foremost. But WALL-E is also a cautionary tale of human excess and turning over too much control to those same robots designed to make our lives easier by performing society's less desirable tasks. The ultimate irony is that WALL-E, EVE, and assorted other robotic characters remain true and come to mankind's heroic rescue, often at great personal risk and cost.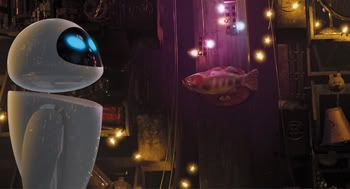 The second layer of the cautionary tale is subtle. Not one word of dialogue is given over to its conveyance. But in the lighting and the sets and the background and the scenery of WALL-E is the omnipresent waste of human society. Our trash, our pollution, our destruction of everything green and alive is a message that is communicated loudly and clearly to the audience. In the bleak Earth that the brown WALL-E inhabits, accompanied only by the brown cockroach sidekick; WALL-E, and other robots like him, have toiled for over 700 years to clean up human waste. And it's only after 700 years have passed that the first fragile green plant is discovered. That green plant, and the symbolism of WALL-E's love interest, the robot EVE are universally understood, even without any words.
That the brilliant creative minds of Pixar can fashion an animated film mostly devoid of words, show tremendous humor and cause laugh-out-loud reactions in the audience, and at the same time give a nod to 2001 so clearly you can see in your mind's eye the Neanderthals brandishing their weapons of bone while you're laughing at robotic hijinks AND at the same time completely understand that life is precious and needs to be protected--that the Earth's pollution needs to be cleaned up--help make WALL-E nothing less than a profound message to adults and children alike.
WALL-E is pure movie magic, and Oscar will take notice come February.
Thanks for reading.
Technorati Tags:wall-e, almost wordless wednesday, pixar, 2001: a space odyssey, environmental protection, pollution, robotics, beauty and the beast, love stories, comedies
Generated By Technorati Tag Generator