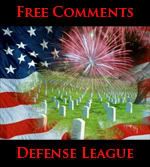 It began as a comment on Steven Humour's post
Comment On This Post, Receive No Credits, But Still Laugh At the Video
. Being the smart ass that I am, after commenting on the video, I said:
P.S. If you would like to give me 3 EntreCard Credits for this comment, I'll be happy to accept the transfer.
Steven, being the smart ass that he is, sent me five EntreCard Credits.
I responded to that gesture and Steven suggested we form a club where we drop EntreCards on blogs that have SezWho installed and ask for credit donations. Since we do not have SezWho installed, we will not receive credits from EntreCard, so it's only fair that the blog owners send us credits for our comments, right? In case any of you were wondering, as we have all recently learned from The New Yorker, satire is a good thing, right?
Thus, just a few hours ago, the Free Comments Defense League was born complete with a graphic and a blogroll.
If you believe in freely giving comments without anything in exchange and wish to join the blogroll, please comment here with your blog name, email address and URL. I will send you the code to install in your sidebar. Membership in the FCDL is limited to 100 blogs.
Thanks for reading, and don't forget our first meeting next Thursday night at 8:00 pm UT-5!
Technorati Tags: sezwho, comments, blogging, entrecard, free comments defense league, blogroll
Generated By Technorati Tag Generator