Thirty-four years after they first charted and over a quarter of a century after they broke up, ABBA scores their first Number One Album in the United States as ABBA Gold makes the biggest gain of any album on the Billboard Charts and climbs from #6 to #1 on the Top Catalog Albums Chart in its 443rd week.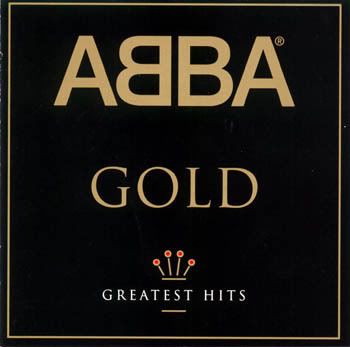 ABBA Gold has sold over 26 Million Copies Worldwide
First released in 1992 at the height of an ABBA revival that saw U2 cover ABBA's Greatest Hit Dancing Queen at every stop on their Zoo Tour, ABBA Gold only reached #63 on the album charts, but it has remained a chart staple ever since, being certified as six times platinum by the RIAA.
ABBA's music has long been described as "timeless" and "multi-generational." Back in the 1970's, unlike any other musical act, it was common for entire families to attend ABBA concerts--wives, husbands, daughters and sons; grandparents and grandchildren, aunts and uncles, boyfriends and girlfriends. This multi-generational appeal of ABBA's music has continued over the years as children who grew up with ABBA as the soundtrack of their lives have passed ABBA's music down to children of their own.
And so the built-in audience had already been created by the time Mamma Mia! opened in London and Broadway in 1999 and 2001. And this week, more history is being made as the Original Soundtrack to Mamma Mia! The Movie is the greatest gainer on the Billboard Top 200 Albums Chart and climbs from #7 to #3 in its second week of release.

Number 3 and Skyrocketing Up the Charts
While the stage version of Mamma Mia! has kept theater-goers dancing in the aisles for a decade now with it's simple story, sequinned and satin costumes, and quirky and often hilarious choreography, the major appeal has always been the nostalgic performances of the ABBA classics which the story weaves around. The conversion to a motion picture lost some of that stage charm in translation, however for the first time, Meryl Streep and company have gained performance value which equals the star power of ABBA's music.
That being said, Mamma Mia! The Movie is NOT high art. The movie is not Oscar material. The movie is not an example of brilliant writing or choreography or dancing or cinematography. But what Mamma Mia! achieves that no movie has ever achieved is a pure two hours of unadulterated joy, fun, exuberance and escapism--which ultimately is what you get when you listen to ABBA's music.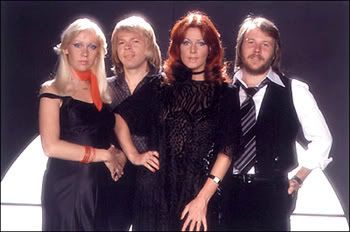 ABBA in 1977
It is no surprise to those of us that have grown up with ABBA's music why their music has endured. To this day, when Dancing Queen is played in any club, the dance floor becomes packed. To this day, when Dancing Queen is played on the radio, those in restaurants, in cars, in shopping malls all start grinning and tapping their feet and start to hum or even sing along.
As newspaper columnists around the world are compiling lists of interesting ABBA facts, I figured I would be no exception. So here are some interesting facts about ABBA that you might not have known or read before:
1) Burt Ward, who played Robin on the original Batman television series, was the first President of the ABBA Fan Club in the United States.
2) ABBA was already a well-established brand of canned herring in Sweden when the idea of combining the first letters of each of the band members' names was tossed around, and the group actually had to get permission from the fish-canning company before they could use the name.
3) It is often reported that Dancing Queen is ABBA's greatest worldwide hit, and it is true that Dancing Queen achieved the greatest chart success worldwide in terms of rankings; but Fernando actually sold more copies as a single than Dancing Queen worldwide and was #1 on the Australian Charts for a staggering 16 Weeks.
4) Further, Take A Chance On Me sold more copies in the United States than Dancing Queen, and because of greater longevity in the Top 10 than Dancing Queen on the U.S. Charts, Take A Chance On Me was actually a bigger chart hit than Dancing Queen, even though it only reached #3.
5) Further, Dancing Queen was #1 on the Billboard Top 100 for one week back in 1977, but Dancing Queen was not ABBA's sole U.S. Number One Hit. Both Fernando and The Winner Takes It All were #1 on the Billboard Adult Contemporary Chart for
two
weeks. And the medley of Lay All Your Love On Me/Super Trouper/On and On and On was #1 on the Billboard Dance Chart for two weeks.
6) A palindrome is a word or phrase that is a mirror image of itself when it is read forwards and backwards. SOS is the
only
palindrome song title by the
only
plaindrome artist ever to hit any worldwide chart.
7) Back in the days of the Cold War, eastern European countries had a hard time generating cash to pay for any consumable goods, let alone record albums. So Poland actually traded crude oil for ABBA albums in order to meet the demand for ABBA albums in that country.
8) Lasse Hallström, the Award Winning Director of such films as The Cider House Rules, actually got his start directing ABBA's music videos. MTV did not go on the air until 1980. The music videos that ABBA produced were cutting edge for the time. Because the demands for ABBA appearances and interviews around the world were so great, ABBA decided to produce "promotional films" for each of their new singles along with taped interviews that they could send to every media market around the world in lieu of their appearance. In this fashion, ABBA actually "appeared" on the Jerry Lewis Muscular Dystrophy Labor Day Telethon in 1979, and performed their hit Does Your Mother Know.
9) Almost everyone knows of the superstar collaborations of Band-Aid and Do They Know It's Christmas and USA for Africa and We Are the World. But before these great collaborations to raise money for starving children in Africa, ABBA performed at the United Nations in New York in January, 1979 along with Olivia Newton-John, Donna Summer, The Bee Gees, Earth Wind and Fire, Gilda Radner, Andy Gibb, Kris Kristofferson and others in a Concert for UNICEF. All participating artists recorded a song and donated its royalties in perpetuity to UNICEF as a fundraising gift for then and for the future. ABBA's contribution was the song Chiquitita, which was a worldwide #1 hit in Spanish speaking countries, and indeed, ABBA recorded a version of Chiquitita in Spanish. To this day, Chiquitita is generating more revenue for UNICEF than any other artist's contribution. And when you go see Mamma Mia! on stage, or at the movies or buy a copy of ABBA Gold, a portion of the revenue is contributed to UNICEF because of the inclusion of Chiquitita in those works.
10) It is often reported that ABBA wasn't critically respected at the time by their peers. While this is certainly true of most music critics of the time, nothing could have been further from the truth. When SOS came out none other than Pete Townsend of The Who proclaimed that "SOS was the greatest pop rock song ever written." Saturday Night Live has always been known for showcasing cutting edge rock artists. ABBA appeared on the fifth episode of SNL in its very first season and performed SOS. John Lennon said the same thing of Knowing Me, Knowing You that Pete Townsend said about SOS. Additionally, ABBA was always on the cutting edge of recording technology. In 1979, ABBA's own recording studio, Polar Music Studio, opened in Stockholm. The first recording act to record an album at ABBA's new studio was Led Zeppelin. That's right. In Through the Out Door was recorded at Polar Music Studio. And finally, in 1982 when ABBA released The Singles: The First Ten Years, giving all of us hope at the time that there would be a second ten years of ABBA music, Rolling Stone gave the greatest hits compilation a glowing five-star review.

ABBA in 2004
It's been a long wait for ABBA's first number one album in America! And after 34 long years, it's evident that ABBA has finally arrived and have been embraced wholeheartedly by the only worldwide market that ABBA never completely conquered.
Tell me, are you an ABBA fan? And if so, have you always said you were or have you only enjoyed ABBA as a guilty pleasure in secret from your friends and families? We all have ABBA stories to tell, and I want to hear yours.
Note: If you liked this post, please vote for it on Yearblook.
Thanks for reading.
Technorati Tags: abba, abba gold, mamma mia!, dancing queen, fernando, knowing me knowing you, take a chance on me, billboard charts, number one
Generated By Technorati Tag Generator