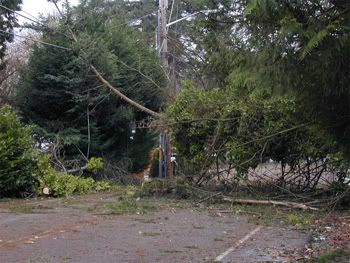 I have often wondered, as so many millions have before me, if a tree falls in the wilderness and there is no one around to see it, does it indeed make a sound?
After last night's thunderstorm came through, I can answer unequivocally a resounding
YES
!
I was just sitting down to dinner in my little house in the woods and others were milling about on the west end of our communal complex when suddenly leaves started flying past my window, the sky turned grey, and there was this horrendous, bone-crushing, loud crash.
"Oh please, please, please," I thought. "Please not my car!"
I needn't have worried. After quickly throwing on a shirt and my river sandals, I walked outside and saw everyone else head towards the highway where a massive tree branch had fallen across the road. Traffic was already stopped. So about 20 of us raft guides did what raft guides do...we lined up, grabbed the tree, and pulled it off the road. Traffic resumed without so much as a wave of thanks from the motorists.
Bastards.
But even though none of us were around to see the tree smack the pavement, we all heard it, thus proving once and for all that when trees fall in the wilderness, they do indeed make a sound.
Unfortunately, the tree episode was not the last of the evening. While there was no tornadic activity, and only a brief period of intense rain and the high winds had passed us by with the super cell; our power did go out, and with it, power to the pump in our well--which we are still waiting for the power company to restore. That means no water.
So I packed up my toothbrush and toothpaste and mouthwash and brought them to work with me this morning. But it got me to thinking. For a few seconds there this morning with no water, I thought..."What do I do?" It was almost comical, really, if you think about it. The same guy who takes hundreds of guests down the river every year, the same guy trained in Wilderness First Aid and CPR, the same guy who helped pull a fallen tree off the highway, couldn't figure out how to brush his teeth.
It just goes to show you all the things we take for granted until they're not around. Water is kind of important.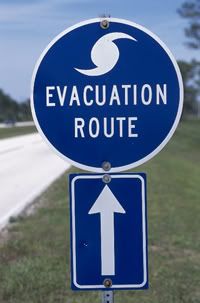 And as hurricane season ramps up into high gear with Dolly now threatening somewhere in the Gulf of Mexico, I encourage all of you reading this post to take the time to check your home first-aid kits and emergency supplies. Do you have a plan for a prolonged power outage? Do you have bottled water and unexpired canned food around to feed you and your family and your pets for a week? Do you have an evacuation plan in case of a hurricane or any other natural disaster?
These are all things to think about ahead of time so that when the tree smacks the pavement near you, you're not wondering--like I was this morning--what to do.
Thanks for reading.
Technorati Tags: fallen trees, storms, hurricanes, natural disasters, evacuation plans, disaster awareness, emergencies, emergency planning, tornados, floods, fires, mudslides, volcano eruptions, wilderness, first aid, medical kits, emergency supplies
Generated By Technorati Tag Generator