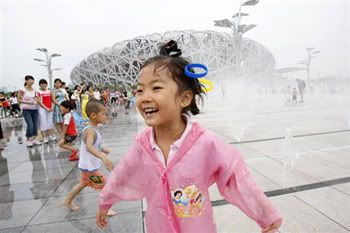 Child Playing in Fountain Outside the Bird's Nest




Jonathan Horton Competing in the High Bar Event Final. Were it not for a step on the landing costing him 1/10 of a point, Horton would have had Gold.




It's Okay to Capsize AFTER You Win Your Sailing Medal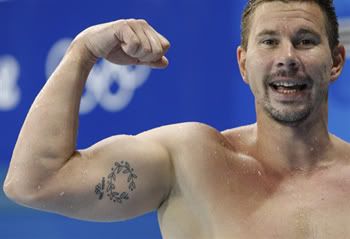 Olympic Tattoo: I've got spirit yes I do, I've got spirit how 'bout you?




Phelps' Wingspan In Action. Is this the Butterfly or the Albatross?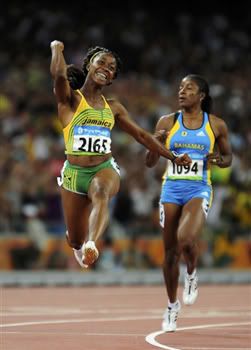 Shelly Ann Fraser of Jamaica Exults after Winning Gold in the 100 Meter Sprint




Nastia Liukin of the U.S. wonders what might have been as she wins Silver in the Uneven Bars. Many of the Chinese gymnasts are widely acknowledged to be well under the 16-year old age which is a gymnastics eligibility requirement. And yet, China has "doctored" the passports of these gymnasts according to widespread reports of Chinese journalists speaking only off the record to western reporters. Take away the under-age gymnasts participating in these Olympic Games for China and the U.S. women win the team gold, Shawn Johnson wins gold instead of silver on the Floor Exercise and Nastia wins gold instead of Silver on the Uneven Bars, and Alicia Sacramone wins Bronze on Vault. The Olympics are about the glory of sport and fair competition. If China can flagrantly violate international age restrictions in women's gymnastics, what's to stop other countries from doing the same in an attempt to level the playing field?




A track and field starting gun with the Olympic Flame in the background.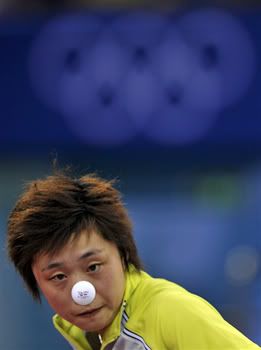 No, this is not an Olympic Clown. This is a competitor in a fierce game of Table Tennis about to hit the ping-pong ball.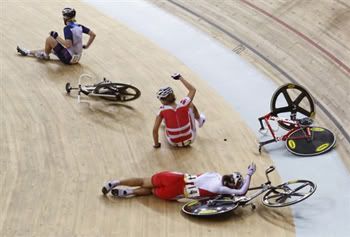 Wipe Out.




The U.S. Women Take Gold in the 2000M Rowing Eights.




France Beats U.S. in Fencing for Gold. Okay, I'll give France that. The country has little else to cheer about of late.




Kolecki of Poland winning Gold in Weightlifting, and perhaps he's more excited about his medal than Michael Phelps is about any of his?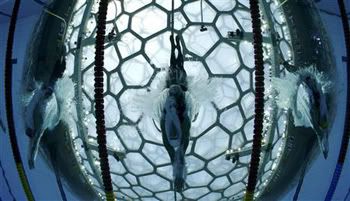 View from Under the Water in the Water Cube.
Thanks for reading.
Technorati Tags: almost wordless wednesday, beijing olympics, olympic games, michael phelps, nastia liukin, jonathan horton, water cube, bird's nest, gymnastics, chinese women's gymnastics
Generated By Technorati Tag Generator