Nastia Liukin and Shawn Johnson are 1-2!
United States media coverage of the Beijing Olympic Games is biased. It's true. America loves its champions. Nothing can prove this statement more than the non-stop prime-time television coverage of Michael Phelps, Nastia Liukin, Shawn Johnson, Natalie Coughlin, Misty May-Treaner and Kari Walsh, not to mention the rest of the U.S. Swimming, Gymnastics, and Beach Volleyball Teams. If you're from the United States and you're not expected to win Gold, don't expect television coverage.
It's sad really. Only the very few will win an Olympic Medal, let alone the most coveted Gold. But it's an incredible achievement to just make it to an Olympic Team and to compete in an Olympic Games. The truth is, all Olympic athletes devote the better parts of their lives training for an Olympic Games. They all have stories of training and sacrifice. They all have stories of setbacks and injuries. They all have stories of sublime elation and the most dejected disappointment. All these stories are just as worthy of press coverage, even if these Olympians are not members of the "Redeem Team" in Basketball, or a Grand Slam Tennis Star.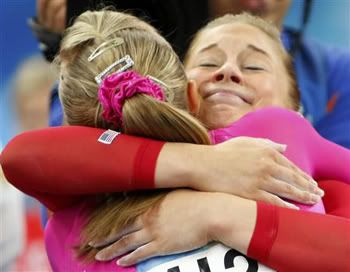 Shawn Johnson sharing a hug and bittersweet tears with Gold Medalist Nastia Liukin
Last night, Nastia Liukin and Shawn Johnson--both World Champions, both multiple medalists through the years--competed for the All Around title in women's gymanstics. And in that marquee event of all marquee events, what really bothered me was the television commentary if the judges took just an extra minute to pick up the phone and check with the technical committee president who makes decisions and rulings regarding start values and performance. Has American coverage become so biased and so scrutinized that our commentators feel it's necessary to question judging calls and second guess every deduction?
As a viewer last night, I got sucked in and fell for it and I was all but ready to condemn the gymnastics judges, but something didn't feel right. Tim Daggett and Elfi Schlagel should know better--they competed and Tim Daggett won Gold. He knows how the process works. And he respects his fellow Olympians. So when the older lady in the red coat who was the president of the technical committee was referred to as Nellie Kim, something was jogged in my memory. It seemed to me I had watched her compete for Russia and win gold herself, and I just kind of thought that of all gymnasts I had watched over the years, I had really liked Nellie Kim and her story and had rooted for her.
Sure enough, Nellie Kim is a five-time Gold Medalist, having won three golds and a silver at the Olympics in Montreal in 1976 and two golds in Moscow in 1980. There are a lot of qualified individuals that could be chosen to serve as president of a gymnastics technical committee, but I would think that a five-time Gold Medalist would be given the benefit of the doubt. What disturbed me was that none of the three US commentators could have given Nellie Kim the respect that she deserved and had reminded the viewing audience that she was a five-time Gold Medalist herself, and would undoubtedly make the right decisions regarding the judging of our Olympians Shawn Johnson and Nastia Liukin.

Greco Roman Wrestling Bronze Medal left on the floor after the Swedish Athlete who won the medal threw it away in disgust.
As much as I am enjoying the coverage of the United States Olympic Champions, I feel like I'm missing out on so many other stories. I would have loved to have seen in prime time last night what triggered a Swedish bronze wrestler to throw away his medal during the awards ceremony. I would welcome watching some of the sailing events, that seem to be taking place without any fanfare whatsoever, or the whitewater events or the fencing--in which the U.S. swept the medals!
To me, the Olympic Games are about so much more than Olympic Champions. They're a stage to celebrate the glory of all sport--even sports that we never think about unless it's in the context of an Olympic Games. But sadly, our media coverage is almost exclusively focused on the glory of our athletes that fulfill their Olympic Dreams in marquee events, or who succumb to the horrible fate of not fulfilling our expectations for them in the most pressure-filled competitions of their lives.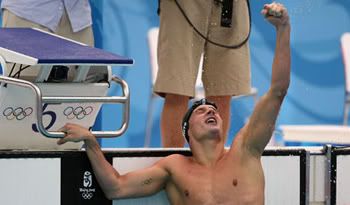 Ryan Lochte wins his first individual Gold Medal by beating Aaron Piersol.
Thanks for reading.
Technorati Tags: olympics, beijing olympics, media coverage, bias, media bias, gold medal, olympians, shawn johnson, nastia liukin, michael phelps, natalie coughlin, ryan lochte
Generated By Technorati Tag Generator