Now that the Olympics are over, I find my thoughts and focus meandering back to river journeys and tales of adventure, especially now that "Gauley Season" is about to begin. While I have no doubt that the U.S. Presidential Election will be front and center for most of the fall, at least until the end of October the river will be foremost on my mind. The following is a Guest Post from my good friend and fellow blogger Ken Armstrong of Ken Armstrong Writing Stuff.



I approached Ken about two weeks ago asking if he would be willing to write a guest post for my blog. What Ken has written has blown me away with not only his kindness and his unique and clever turns of phrase, but also by his uncanny ability to read my mind and think similar things at the same time.
There have been multiple occasions when Ken and I have been thinking the same things at the same time, and once we were even reading each other's blog posts and commenting on each other's posts at the very same instant about the joint posts we had just written on our own blogs.
I consider Ken to be a kindred spirit, and if you enjoy my writing, I know you will enjoy this post from Ken. Without any further ado, here is Ken's post:
The Current Within Us by Ken Armstrong
I like Matt's Blog a lot.
(This is Matt's Blog, in case you're disorientated)
I asked myself, "Why is That? Why do I like Matt's Blog?"
I answered myself, "Because Matt and I have quite a few things in common."
My wife replied, "Are you gonna be in there all night? There's people out here waiting you know."
So here's three things Matt and I may have in common. Two of them are moderately interesting, one is just wrong and one is meant to be a bit deep and insightful.
You can judge.
1) We are both positive people
Check this Blog, it's full to the banks with enthusiasm, fun, lust for life, discussion and general positivity. Matt does '+', really well. I like to think of myself as being generally pretty positive too. In that age-old debate, I frequently find the glass to be three-quarters full. This doesn't mean that Matt won't disagree, argue or persuasively put forth his point of view when the need arises. It also doesn't mean he won't stand up for wrong doing and injustice when he sees it.
(Note to self: You're making him sound like bloody Batman now, calm down, eh?).
So, we're positive, yeah.
2) ABBA
(How do you do that reverse 'B' anyway? I've just lost five minutes of my life on that.)

(Note: Like this Ken.)
Matt and I have ABBA in common.
See, this is just 'wrong'. Matt adores ABBA, that's a given. But I don't. Nah-hah. I think they're good. They've been around in my life since that Eurovision thing. I have ABBA Gold on CD. I've seen 'Chess'. But I don't love them in any way, shape, or form like Matt does.
Yet ABBA is part of the glue which binds us together… is it just me or does that sound a bit off?
It all started many moons ago when I boasted on my own blog that I was good at recalling lyrics (I am… just deal with it). Matt tested me with some obscure ABBA lyrics and I delivered the goods. 'Trouble is, as a result of that exchange, Matt seems to have mistaken me for a like-minded ABBA devotee. I'm not, I love Tom Waits like Matt loves ABBA.
So why is ABBA the second thing we have in common? Just because it is. It's wacky but it's true and I like that, I really do.
3) The River
I could be wrong about this but I think Matt and I have 'The River' in common.
'The River' has always been an important part of my life and, from reading Matt's blog, I think it's clear that it's an important part of his too.
I grew up beside the river. It wasn't a wild untamed river like Matt's, in fact it was wide and slow. The river defined our lives in a very real sense. We marked the passing of the seasons as the salmon came and went, as the eels ran, as the mayfly spawned, as the swans reared their young. I would take a boat after school and paddle up into the river and sit in among the rushes, pulling out lively little Perch, stalking legendary monstrous Pike. I saw lives taken by the river, lives given to the river.
And then I left it behind.
So, finally then, here's one little difference between us.
Matt has settled by the river which is so important to him, the river which runs like a metaphor for his very life-blood. He keeps his river close to him and he embraces it.
Whereas I left my own river behind me a long time ago. It may still run in my veins but I will never get back to it. I may never really see it again...
Thanks for letting me Blog over here Dude. It's been wet but I reckon that I'll dry out in time, I usually do.

A music video Ken has included with this post that he encourages you to watch and listen to.
__________________________
No, thank
you
Ken!
If you're still reading, you've probably learned something about me and something about Ken. Not only is Ken an awesome writer, he's a really great guy. And he's got an awesome sense of humor as well, somewhat dark and sarcastic like my own, even though we are both pretty positive individuals. It's for these reasons, but mostly for reasons that are evident in Ken's writing, that Ken is the latest recipient of the rare "MTMD Blog Award of Excellence."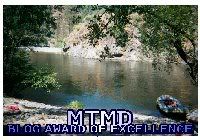 Congratulations Mate! I can't think of anyone more deserving.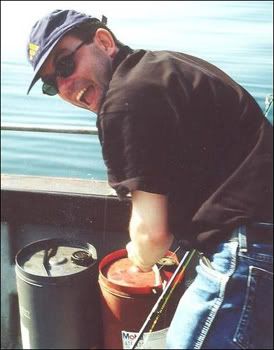 Ken Armstrong in shock that he has received yet another award.
If you haven't visited and read
Ken's Blog
yet,
what
are you waiting for?
Thanks for reading.
Technorati Tags: ken armstrong writing stuff, ken armstrong, blogging, guest posts, rivers, abba, biographies, positive, mtmd blog award of excellence, blog awards, nick drake, youtube, music videos, gauley river, gauley season, presidential election
Generated By Technorati Tag Generator