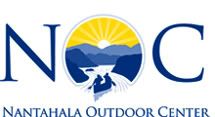 I've been very careful since I started this blog to avoid mixing blogging with work. It's generally a very good policy not to blog about work, co-workers, colleagues, policies and the like which all usually will come back to haunt the blogger in one way or another. Since I started working for the
Nantahala Outdoor Center
almost two years ago, it's been even harder because as my readers know, I'm passionate about whitewater rafting and the Nantahala Outdoor Center is first and foremost a whitewater rafting company. Blogging about work in this case is doubly detrimental since anything I have to say about this whitewater rafting company would be biased and colored by my perceptions as a paid employee.
Well today I make an exception.
If you are planning a rafting trip, if you are planning to take a kayak instruction clinic, if you are planning a trip of any kind to Western North Carolina or the Great Smokey Mountains and you want to get on the water, get on the trail, or even if you are just looking for a place to eat as you are driving by, you should stop at NOC.
Forget that we are leaders in the whitewater industry and that National Geographic Adventures names us as one of the "Best Outfitters on Earth." Forget that the New York Times names our paddling school and instruction program "The Nation's Premier Paddling School." Forget that magazines and travel publications like Western North Carolina and Fodor's praise our restaurant's cuisine and that our Chili has won chili cook-offs every year we enter.
The reason you want to take your trip or instruction program or dine with us, non-withstanding all other considerations, is because our staff is loaded with skilled medical talent. It is no exaggeration to say that our staff of over 500 full and part-time professionals represents the highest concentration of medical caregivers in western North Carolina. With few exceptions, every one who works for NOC is trained in basic First Aid and CPR. Most carry higher medical certifications. Our staff includes a doctor, two nurses, two paramedics, about twenty EMTs, over forty trained Wilderness First Responders, and well over a hundred trained in Advanced Wilderness First Aid. In fact, the SOLO School of Wilderness Medicine has an office at NOC, and certification programs for the public and staff are offered continuously.
This advanced medical training is not necessary for day-to-day river and outfitter operations. The forest service and most governing bodies only require basic Red Cross First Aid and CPR. But this medical training is an example of the highest standards of professionalism that our staff aspires to. We hope that we don't have to use our training, but it's comforting to all of us that should some incident occur where these medical skills are needed, we can respond.
Such an incident occurred early Friday evening just after 5:00 pm. Just as a busy afternoon of whitewater rafting was coming to an end and rafts were piling up at the take-out beach, there was a rollover car accident on Hwy 19, which runs alongside the Nantahala River. Almost immediately, no less than 20 of NOC's finest were on the scene. EMT's from our instruction department who had just finished raft guiding or were wrapping up a kayak instruction clinic, a bunch of us raft guides cleaning up after our trip with Advanced Wilderness First Aid or Wilderness First Responder Certifications, one of our board members even paddled a nurse across the river to the accident scene. Those of us with less medical training were stopping and directing traffic as our SOLO Wilderness Instructor arrived and another EMT driving up in an instruction van with a backboard.
It was really quite remarkable. All of us responded as a team. All of us worked together, remained calm, and did our best to help the unfortunate victim and keep the business running--managing guests who had just witnessed the event and coordinating with emergency personnel as they arrived on the scene. We called 911. We maintained traffic flow on Highway 19. A driver passing through identified herself as a nurse and we made a place for her to park and escorted her to the scene. We kept walk up gawkers on the other side of the highway away from the scene. And we did our very best to provide emergency medical care to a seriously injured elderly woman hanging upside down in her inverted convertible, restrained by her seatbelt.
With some reflection this really isn't anything extraordinary. I believe that most individuals would respond in whatever way they can in such a situation. But what was extraordinary was our ability to instantly mobilize to the scene and the clockwork precision with which we worked together as a team.
I'm most proud of our team. I'm proud to be a part of it. I'm proud of the training that we collectively possess that enabled us to respond and give that poor victim every chance at survival. And I'm proud and comforted to know that if and/or when another accident or crisis of any kind ever hits this isolated river gorge in Western North Carolina that we're ready to respond in full force in any way that's required. In fact, there's no group of people I would feel safer with than my coworkers here at the Nantahala Outdoor Center.
And if you need one more reason to choose our company over any other for your next rafting or kayaking or biking or recreational vacation, our medical training is second to none and should be more than enough to tip the scales in favor of NOC.
Thanks for reading.
Technorati Tags: nantahala outdoor center, noc, western north carolina, smokey mountains national park, north carolina, tourism and travel, medical care, emt, paramedic, wilderness first responder, wilderness, solo school of wilderness medicine, solo, emergency medicine
Generated By Technorati Tag Generator