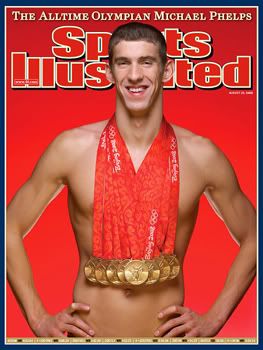 Eight Gold Medals, Michael Phelps on the Cover of SI the second week in a row. The greatest swimmer/athlete of all time?
Throughout the Beijing Olympic Games, which I have watched as if they were a physical addiction, I have been struck by the superlatives being thrown around by the news and broadcasting media to describe virtually every Olympic moment.
Like most viewers, I was aware of Michael Phelps' quest to become the most award-winning Olympian of all time by breaking Mark Spitz's 36 year record of winning seven gold medals in a single Olympiad. Like most viewers, I watched every swimming event pretty much awestruck as Michael Phelps'--individually or as part of a team--set new World and/or Olympic Records in every event as he won eight gold medals. By any standard, what Michael Phelps has done is an amazing feat. By any standard, Micheal Phelps is an amazing athlete. By any standard, Michael Phelps said all the right things during and after his Olympic performances.
But as Michael Phelps has been "proclaimed" the greatest Olympian and athlete of all time, I can't say that I have really bought into such a superlative. I don't believe the feat of winning eight gold medals in a single Olympiad will be equalled again in my lifetime. But I'm not so quick to bestow superlatives while caught up in the emotions and afterglow of an incredible triumph. Especially since the superlatives being tossed out to Michael Phelps like darts to a dart board are
not
the only ones being tossed around in Beijing.

Misty May-Treanor and Kerri Walsh--The greatest beach volleyball team of all time?
The other night, Misty May-Treanor and Kerri Walsh became the "greatest beach volleyball team of all time." They are the first and only beach volleyball team to repeat as Olympic Gold Medalists. Not even the great Karch Karalyi accomplished back to back golds in beach volleyball. There is no question that May and Walsh have dominated beach volleyball for the last six years. But beach volleyball has a very short history when compared with swimming. So when throwing out labels, how do you evaluate one historic accomplishment in terms of another historic accomplishment in two or more radically different sports? With different rules and judging schemes or mechanisms?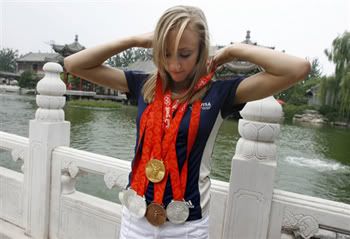 Nastia Liukin: The Greatest Gymnast of All Time?
Nastia Liukin, the winner of the All Around Gold Medal in Women's Gymnastics has been just as dominant in gymnastics as Michael Phelps has been in swimming over the last four years or so. Granted, competitive lifetimes in gymnastics are far shorter than they are in swimming, but gymnastics is also far more punishing on the body. Nastia won five medals in these Olympic Games. Like Phelps, individually and as part of a team. She competes in four different events: Floor Exercises, Balance Beam, Uneven Parallel Bars and Vault. Phelps has to master four strokes: Freestyle, Butterfly, Breast Stroke and Back Stroke. And that bronze medal and two of those silvers around Nastia's neck in the photo may be upgraded to silver and gold respectively depending on how a new Olympic controversy is resolved.
Notwithstanding the controversy under review as this post is being written, Nastia is at the top of her sport the way Michael is at the top of his. Nastia Liukin is the All Around Champion. She won five medals, edging out her team mate Shawn Johnson who won four. But that's really the most medals a female gymnast can win in an Olympic Games. Nastia Liukin can't choose to compete in a relay or some other gymnastic event that does not exist. Only in swimming can an athlete--male or female--have an opportunity to compete in seven or eight or more events.
And unlike swimming, the rules of gymnastics are much more complex. Michael Phelps has it easy. All he needs to do is jump in the pool and reach the finish line first. Not so for Nastia Liukin. In addition to doing the most difficult gymnastic skills on the books, she has to do them perfectly, without breaking form, with amplitude, with toes pointed, with grace and beauty--all of which are subjective criteria decided upon almost subjectively by a panel of judges. If Nastia Liukin fails to point her toes, she could lose a placement, and a gold medal, by the slim margin of only five/thousandths of a point. If Michael Phelps gets sloppy in his strokes he does not receive a time penalty by the swimming officials. His technique can be perfect or poor, just so long as he reaches the touchpad at the end of his race first. So how do you compare accomplishments in swimming versus those in gymnastics? Especially if what should be a level playing field is manipulated?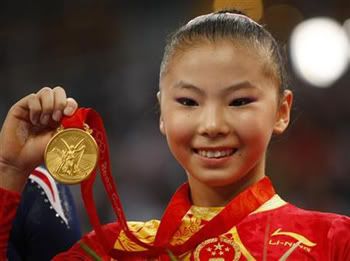 The Greatest Olympic Controversy of All Time
The rules for Olympic Gymnastic Competition are quite clear. All competitors have to be at least sixteen years old the year of the Olympic Games. For a long time now, the Chinese women have been scrutinized by the media, and finally the International Olympic Committee has launched an inquiry into the age of several of the Chinese Gymnasts who competed and won Gold at the Beijing Olympic Games. Just looking at the girls who have competed for China raises an eyebrow or two. It's readily apparent that some of the girls competing for China look fourteen or younger, and documents that are surfacing now seem to raise this as an issue.
The reason why this is a controversy in women's gymnastics is because younger gymnasts are smaller and it's easier for them to fly through the air and to do tricks than an older gymnast whose body has gone through puberty and changed. Having a 14 year-old gymnast compete with a 16 year-old gymnast alters the playing field and favors the 14 year-old in terms of the difficulty of the routines that can be accomplished. An age scandal in an Olympic event is just as serious as a judging scandal and this inquiry threatens to cast a pall over the Beijing Games the same way the French Judge Scandal cast a pall over the Salt Lake City Games in Figure Skating.
But when you get past the issues of rule enforcement and judging scandals and biases, how do you compare a gymnastic performance with its art and beauty and difficulty versus a performance in swimming which really involves just reaching the finish line first? I don't think it's possible. If there's ever been a case of apples versus oranges, this is it. And what about those athletes who compete in multiple disciplines?

Sheila Taormina--The Greatest Olympian You've Never Heard of?
Yes, Michael Phelps has had to master four swimming strokes to perform at the level that he has reached. But for the first time, there is an Olympian that is competing in the Olympics in three different events. Sheila Taormina is the very first Olympic Athlete to compete in three different events in three different Olympiads. In Beijing she is competing in the Modern Pentathalon--which itself is five different disciplines, and in previous Olympic Games she has won Gold in the 4x200 relay in Track and Field in Athens and she competed in the Triathlon in Sydney. How do you compare someone who excels in so many disciplines and events to Michael Phelps? No, Sheila Taormina hasn't won gold in all the events she's participated in, but they are all so different. It's amazing that she has become so good at so many of them that she can represent the United States in different events in the three Olympic Games she has sought to make the team.

Brian Clay: The Greatest Olympian and Athlete of All Time?
And then you have the Decathlon--long considered the premier event of the Summer Games, where Olympians compete not only in ten very different events, not only against the best decathletes in the world, but also against oneself. Yes, Michael Phelps competes against himself every time he tries to race faster and to achieve a new record. But the way scoring works in the Decathlon is that points are awarded for each of the ten events partly based on how much a competitor's results exceed or fail to meet the competitor's previous personal best. Because of this, a decathlete can rapidly improve and achieve success early in his career; but the longer he competes in this event, the harder it becomes to continually improve and to remain on top of the sport. That is why Bruce Jenner's Gold Medal in the 1976 Olympic Games and Brian Clay's Gold Medal today remain so awesome. Next year, Michael Phelps might get a new swimsuit and break another world record. But the margins by which he can exceed his previous results will certainly diminish over time.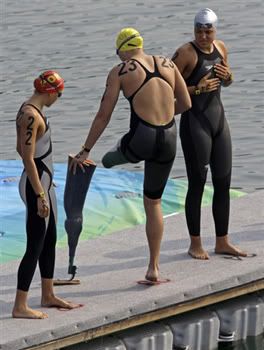 Natalie du Toit: The Greatest Olympic Feat of All Time?
Finally, how can you compare one unprecedented and inspiring Olympic feat with another? Exhibit A, Natalie du Toit of South Africa. An open water swimmer making her Olympic debut, with an amputated leg. Natalie was involved in a car accident several years ago and her lower leg was crushed. It had to be amputated at the knee. But Natalie never gave up. She went through rehabilitation. She was fitted with a prosthesis. She learned to walk again. And she kept her Olympic dream alive. While she did not medal in Beijing, she competed alongside those with two fully functional legs with feet that could kick and propel them through the water. Natalie finished just outside the Top Ten. Of all the stories at these Olympic Games, Natalie's is one of the most compelling, and true to the Olympic Ideal of Competing for the Glory of Sport.
When we look at amazing athletic feats, we're always going to want to measure them in terms of other athletic feats. But how can you compare a Michael Phelps against a Roger Federer against a Tiger Woods against a Michael Jordan against a Nastia Liukin or a Michelle Kwan? And how can you compare a test of skill and precision--such as diving or shooting--against a test of speed--such as a swim race--against a test of acrobatics and beauty--such as gymnastics or figure skating--against a team sport--such as beach volleyball or basketball or water polo or hockey or football or soccer where every athlete has a role to play and works for a team result instead of an individual one? And how can you compare a modern athlete with better facilities and training knowledge and technology and equipment than an athlete of yesteryear? The current issue of Sports Illustrated with Michael Phelps on the cover points out that double Gold Medalist Jesse Owens, were he competing today, would not even make the Olympic Games with the times he turned in to win his gold medals.
The thing is, you really can't, and it's just a thought exercise that can only result in argument should you try. What gets lost in our over-the-top worship of our sports heroes and quest for superlatives to justify massive product endorsement deals is that at the end of day, all of these amazing feats are examples of greatness that every human being has the potential to achieve. Not just in sport, but also in the arts, in science, in the humanities. I only wish that our most brilliant high school and college scholars, our best bands and cheerleader squads, our best debaters and thespians had a level playing field with our sports heroes the next time Wheaties has to choose who to place on the front of its cereal box.
Thanks for reading.
Note: If you liked this post, please vote for it on Yearblook.
Technorati Tags: olympics, beijing olympics, olympic games, sports, achievement, michael phelps, nastia liukin, misty may-treanor, kerri walsh, natalie du toit, sports illustrated, wheaties, gymnastics, swimming, decathlon
Generated By Technorati Tag Generator