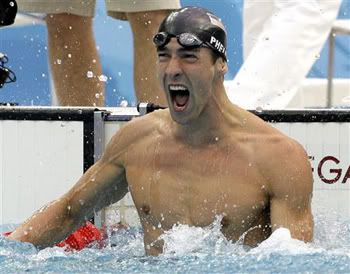 Michael Phelps erupts in jubilation after winning his 7th Record-Tying Gold Medal by just one 1/100 of a second.
This one was the gold medal Michael Phelps pulled out of his hat! He trailed in the 100M Butterfly the entire way, and even in the last 50M when it was clear that he was rapidly gaining on the Serbian swimmer in front, it was also painfully clear that there just wasn't enough pool left to catch him. But catch him he did. In the closest photo finish ever outside of horse racing, Michael Phelps touched the wall first. By a fingernail. And even those watching it couldn't believe it.
The Serbian swimmer took his last stroke and dove for the wall. Phelps took an extra stroke and his giant overhead swinging arms made up the distance and just out-touched the Serbian. The Water Cube erupted. Phelps's mother sank in her chair--it looked like she was having a heart attack, and by the sound of everyone screaming for Phelps where I was watching the race, the quiet that followed when it appeared that Phelps would lose, and then the deafening screams after it was announced he finished first I can completely understand that feeling.
With this win, Michael Phelps earns his seventh gold medal, tying Mark Spitz's 36 year record as the winner of the most gold medals in any single Olympic Games. "He can be called the best Olympian of all time," Mark Spitz told America's NBC television, "not because he has more gold medals than anybody but in the way he's handled himself and in the way he's actually won under a tremendous amount of pressure."
Pressure like no other. Long before the beginning of these Olympic Games, the American Media has been obsessed with Michael Phelps and has hyped the possibility of Phelps winning eight gold medals and finally eclipsing Spitz's record. Michael Phelps has all but dominated U.S. coverage of these Olympic Games. Were it not for the other marquee sports of Beach Volleyball and Gymnastic, these Olympic Games might as well be repackaged and renamed as the "Michael Phelps Swim Quest" reality show. Visa, which as we all know, is "everywhere we want to be," has adopted Michael Phelps as it's marketing poster child.
But all of that aside, Michael Phelps has trained for this moment like no other, he has planned for this moment like no other, his body is perhaps genetically designed for swimming like no other; and tonight, Michael Phelps has the opportunity to swim for his Eighth Gold Medal of these Olympic Games and to win a sporting record like no other. I'll be in front of the television tonight. Will you? And not
just
because of Michael Phelps!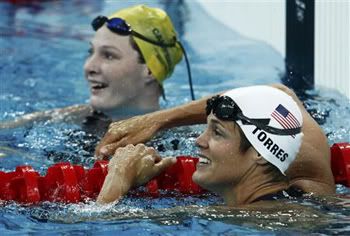 Dara Torres Qualifies for the 50M Freestyle First
The other really amazing story of these Olympic Games is Dara Torres! Dara Torres is swimming in her fifth Olympic Games at the age of 41 in the 50M Freestyle, and she is
still
the fastest woman swimmer in the pool!
Last night she qualified first for the 50M final, and based on how everyone else swam, even with Torres' slow start off the starting block, it appears that no one will be able to beat Torres in her own quest to win her first individual Olympic Gold Medal.
What was truly remarkable about last night's swim however was the sportsmanship Dara Torres displayed prior to her semi-final heat. The swimmer in Lane 2 did not appear at the start of the race along with the other swimmers. Apparently she had a wardrobe malfunction--a rip in her swimsuit. So Dara Torres first told all the other racers unequivocally that they would wait for the swimmer to change her suit, and then she walked over to the race official and informed the official of what was happening and asked her to wait before starting the race.
Now, if this were me, I'm sure I would not have the composure to worry about another racer missing from the race in that pressure-packed situation. I would be trying to focus on my goal and what I had to do to win the race. Hopefully, I would have been in the zone and ready to swim one of the most important races of my life on a worldwide stage to win the chance to swim for an Olympic Medal. It's truly remarkable that not only could Dara Torres handle this distraction, but that she could refocus and go on to swim the fastest race in this event and qualify first for tonight's final.
I'm betting that if there are no further distractions in tonight's final, Torres will be just a touch quicker off the mark, and win the Gold Medal. As much as I'll be rooting for and watching Michael Phelps, it's Torres' race that I want to watch more. Perhaps more so because to me, Michael Phelps at 23 is still just a kid. Dara Torres is my age. And to me, she's an amazing inspiration as to what is still possible. No, I never was and never will be an Olympian of any kind, but I still push the limits on Class V whitewater and my philosophy about that is the same as Torres'. As long as I'm healthy, as long as I'm strong, as long as I can still paddle...I'm going to be out there doing it.
Meanwhile in stark contrast to the sportsmanship Dara Torres displayed, Swedish greco-roman wrestler Ara Abrahamian has been stripped of his bronze medal after he threw it down in protest at the medals ceremony. The IOC said his action went against the spirit of fair play, insulted his fellow competitors and constituted a demonstration, which is banned inside Olympic venues. The IOC said Abrahamian, who announced his retirement after his bronze medal bout, was disqualified, stripped of his medal as well as his Olympic accreditation. It said no athlete would be upgraded to take his bronze medal.
Seems to me the IOC got it right.
Thanks for reading.
Technorati Tags: michael phelps, dara torres, mark spitz, olympic games, olympics, beijing olympics, swimming, gold medals, sportsmanship, sports records, seven gold medals
Generated By Technorati Tag Generator