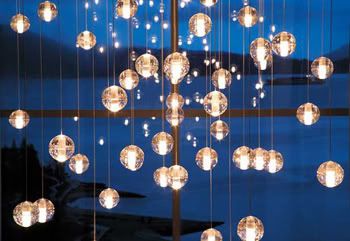 14 Kundalini Suspension Lights
I've been tagged by
Mariuca
with writing about the age that, if I could, would like to go back to. My post can't match the poignancy or quality of the one
Lady Java
made in response to the same tag. So I'll try to be as brief as I can be.
Really, this might seem like a cop out, but there is no age that I would want to go back to. Everything that I have experienced at every age has made me who I am today, and I like who I am today and the things that I have done in life and the experiences that I've had and the people I've met and the places I've been to. If I went back to an earlier age, there is no guarantee I would make the same choices, thus I would be a different person that I am now--with positive or negative consequences, or both.
But if I had to pick a age to go back to, it would be the age of 14. With one caveat: I'd like to go back to that age with all my memories and thoughts and knowledge that I have acquired up until now in tact. THEN, and only then, as a fourteen year-old and a freshman in high school, I could go through some of the most important years of my life with the wisdom I myself had acquired. Then, there would be choices I would have made differently. I would have been kinder to other people. I would have made better choices about exercise and the money I spent and the food I ate. I would have handled some family issues differently as well. But all of those new decisions would have been with the wisdom I would have acquired myself, and acting out of my own twenty-twenty hindsight. Then I'd have the chance to rectify some mistakes, and not to make others--some of which I still regret.


14 Traffic Lights
Thanks for reading.
Technorati Tags:fourteen, memes, blogging
Generated By Technorati Tag Generator