Eight Belles, left, ridden by jockey Gabriel Saez, was attempting to become the fourth filly ever to win the Derby. But heavy favorite Big Brown, right, galloped past the filly in her waning moments under the urging of jockey Kent Desormeaux.
If you're a sports fan and you watch sports long enough, you will see sports injuries. Whether it be a gymnast or a figure skater with a sprained ankle, a football player with a separated shoulder or twisted knee, a downhill skier with a broken leg, a hockey player taking a stick to his mouth or eye, a race car driver emerging from his crumpled car on fire, or even a racehorse collapsing on the track after a moment of triumph.
Such was the case yesterday at Churchill Downs, when Eight Belles, trying to become only the fourth filly in the 134 years of the Run for the Roses; after Regret in 1915, Genuine Risk in 1980, and Winning Colors in 1988; finished second in a twenty horse field, and moments later collapsed on the track with two shattered ankles in her front legs. Her owners chose to keep her out of Friday's Kentucky Oaks so she could run with the boys in the Derby. And run she did.

Track personnel try to hold down the suffering filly following the race.
Big Brown, the odds-on favorite, was pulling away from the field, accelerating with every powerful stride toward the finish line in the Kentucky Derby. The crowd of 157,770 was on its feet and cheering as the big, unbeaten, muscular bay crossed the line first, 4 3/4 lengths ahead of the filly Eight Belles. Trainer Rick Dutrow Jr. was still celebrating, along with thousands of happy bettors, as Big Brown and the 19 other horses in Saturday's race galloped out around the first turn at Churchill Downs.
It took a few minutes to sink in, but anyone watching those horses soon realized that one of them had fallen to the track.
"It's the filly," someone whispered.
In just a few minutes, the joy of the Derby and the promise of a new Triple Crown season were upended when Eight Belles was euthanized by injection on the track.
She had broken both front ankles and could not be saved.
"This horse showed you his heart," winning jockey Kent Desormeaux said, "and Eight Belles showed you her life for our enjoyment today. I'm deeply sympathetic to that team for their loss."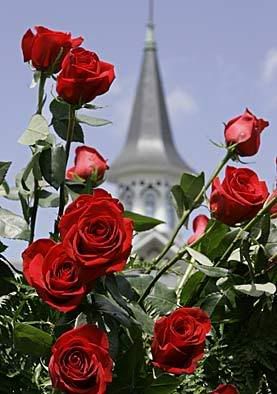 The breakdown brought back memories of the 2006 Preakness, where Barbaro shattered his right rear leg just after the start. The colt was euthanized months later, after developing laminitis from the catastrophic injuries. Dr. Larry Bramlage, the Derby's on-call veterinarian, said the filly's injuries were too severe to even attempt to move her off the track.
"She didn't have a front leg to stand on to be splinted and hauled off in the ambulance, so she was euthanized," Bramlage said.
Trainer Larry Jones paid tribute to his fallen filly saying, "She ran the race of her life."
And he defended having her run against 19 colts in the Derby.
"It wasn't that. It wasn't the distance. It wasn't a big bumping match for her. She never got touched," he said. "She passed all those questions ... with flying colors. The race was over, all we had to do was pull up, come back and be happy. It just didn't happen."
Such is the nature of sports. Injuries happen. But in horseracing, when an injury occurs, it tragically results in death. It's something we all need to remember, and it's something we all must live with as long as we continue to celebrate events like the Kentucky Derby and exult in watching horses race in sport.

Run for the Roses music video featuring Barbaro by Dan Fogelberg
Thanks for reading.
Technorati Tags:eight belles, kentucky derby, horseracing
Generated By Technorati Tag Generator