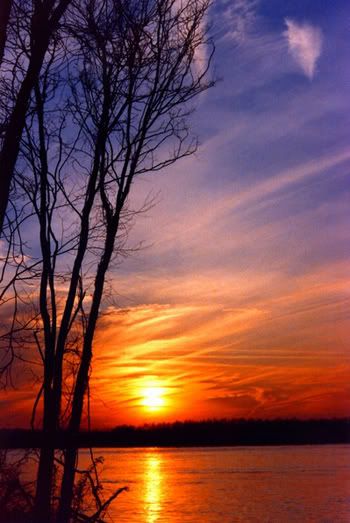 Last night was one of those nights when the sun sets like a neon floodlight and memories from a similar sunset 19 years ago came back, and so, here is the poem written for the one whose memory that neon sun evokes.
Goodbye, My Friend
Yesterday
I watched that neon sun go down
as a jet flew through
electric red and purple rays
dancing
in between soft clouds
pushed and pulled by the wind.
And as I watched, I wondered:
what happens to a cloud
when it is torn asunder in the winds,
almost like a loaf of french bread
in a game of tug-o-war
with the white blur of fur
that snatched it from the dinner table.
Does the cloud die
and fade to nothingness,
never to be seen again,
or do memories remain
like scattered breadcrumbs on the floor
after the tug-o-war?
**********
I remember
sitting with her in the waiting room.
She would walk back and forth on the tiled floor,
lie down under my chair,
get up and walk back and forth again—
bumping into a table covered with magazines…
Come here, girl!
Shake.
Roll over.
Don't die.
Please!
**********
It is night now.
The sun has gone
and I no longer see the clouds.
So I lament
like that old McCartney song
of life and love and loss.
When I see that neon sun again
I'll remember
the game,
and the breadcrumbs too.
I'll watch the wind
blowing the clouds around
and feel
my gentle rain.
Tomboy Buffy, Age: 1
Buffy, Age: 7. All groomed and lady-like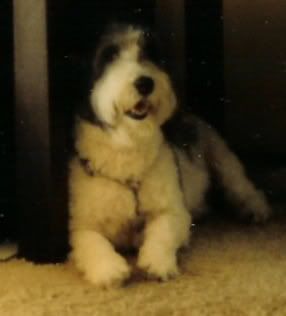 And for those of you who thought this post was going to be about a
Carpenters
song...
...how 'bout a rare live cover of the song by Olivia Newton-John?
Thanks for reading.
Technorati Tags: sunsets, memories, buffy, dogs, yesterday once more, carpenters, olivia newton-john, neon sun, neon, love, breadcrumbs, tug-o-war, games, french bread, the beatles, yesterday
Generated By Technorati Tag Generator