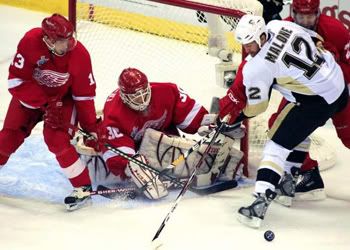 Game One of the Stanley Cup Finals began as a chaotic and nervous exchange on both sides of the ice. Both Goaltenders, Fleury of Pittsburgh and Osgood of Detroit had to make brilliant saves, but after a first penalty-filled period, the score remained tied at zero despite a brilliant shot by Niklas Lidstrom into the Pittsburgh goal that was waived off as no-goal in a disputed penalty by Thomas Holmstrom of Detroit.
In the second period, however, both teams settled and played cleaner. Kronwall from Detroit was everywhere with hard hits for those not paying attention, but ultimately Detroit scored first and the crowd of the Joe Louis Arena in Detroit erupted with raucous cheers and noise.
In the final period, Pittsburgh began to get sloppy--while on a powerplay, they allowed Detroit to score short-handed and go up 3-0 which sealed the deal, and Niklas Lidstrom scored a final goal after Pittsburgh committed a penalty with 1:52 left in the game.
Chris Osgood was absolutely brilliant and the packed SRO crowd at Joe Louis Arena were chanting Ozzie through much of the game. He made all the tough shots when he needed to. And he's going to need to. It's certain that Pittsburgh will regroup and come out fighting in Game 2 Monday Night!
Thanks for reading.
Technorati Tags:detroit red wings, chris osgood, niklas lidstrom, stanley cup finals, joe louis arena, pittsburgh penguins
Generated By Technorati Tag Generator