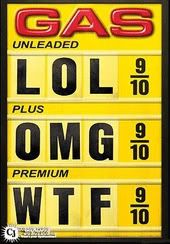 This just in: Oil prices fell sharply Thursday after the Energy Department reported unexpected declines in crude oil supplies last week but said the drop was due to temporary delays in unloading oil tankers along the Gulf Coast. The decline of more than $4 came as a stronger dollar and concerns about gas demand also weighed on prices.
Retail gas prices, meanwhile, rose to a new record above $3.95 a gallon. Here in western North Carolina, it's $4.09 for regular unleaded. The average national price of a gallon of gas rose 0.8 cent Thursday to a record $3.952, according to a survey of stations by AAA and the Oil Price Information Service. Analysts and the Energy Department forecast prices will rise above the psychologically important $4 level soon on a national basis. Prices are already that high in many parts of the country, and are averaging more than $4 in 11 states and the District of Columbia.
Diesel prices are also soaring. The national average price of a gallon of diesel fuel rose 0.9 cent Thursday to a record national average of $4.787. Diesel prices are above $5 a gallon in some areas, and are pulling prices of food and consumer goods higher because diesel is used by most trucks, trains and ships.
In Washington, the Commodity Futures Trading Commission (CFTC) revealed that it is six months into a wide-ranging investigation of U.S. oil markets, with a focus on possible price manipulation. The CFTC also announced a handful of initiatives designed to increase transparency of the energy futures markets. The commission said it started the probe in December and was publicizing the investigation "because of today's unprecedented market conditions."
____________________________________________________
I think it's great that the CFTC has been investigating oil markets for the last six months. Really, I do. But as the song goes, how bout a little less talk and a little more action?
In a January 23, 2002 New York Times article:
Congressional Memo; Senator Attacks Oil Policy As Top Democrats Jockey
, John Kerry was talking about our country's lack of a comprehensive energy policy. Well guess what? Six years later, all up and down the campaign trail, we're still talking about it. We've been talking about it. Non-stop. This conversation isn't going anywhere.
It's time to stop talking and start doing. Do we really have to wait until the end of this year's presidential election cycle and prey that a democrat gets in office to make change? And if so, what is the new president going to do? I mean, really!
I'm beginning to be of the opinion that high oil prices are in our politicians' best interests because it gives them something to talk about and something to promise us to make us feel good as we plop down $5 for a Subway Value Meal Footlong Sandwich, which, if you get the chips and the drink costs $8.50 with tax. Not to mention the $4-6 you spent driving to the Subway and back on your lunch hour from work. That's almost fifteen bucks folks! For lunch! Five days a week, $75.00! I'm wondering what $75.00 would buy me in groceries at WalMart these days? But I digress.
TAKE ACTION!
It's not my intent to go over the top and rant, but really, enough is enough. I truly believe it's time that
we did something
ourselves. Let's do something right now. On my left sidebar, is a
Take Action
Widget. If you live in the United States, type in your zip code. You'll find a list of all your US Senators and Representatives and State and Local Officials.
I'm just asking you to write them!
You don't have to beg, you don't have to shout, you don't have to threaten, but you do have to raise your voice! Just write to them. Tell them that it's unacceptable that we don't have a national energy policy that makes sense. Tell them that it's unacceptable to have to be able to choose between food or medicine and gasoline for your car. Tell them that it's there responsibility to get this taken care of, and tell them the time for talk is over. Get the job done.
I promise you, that if all 300 Million of us who live in the US would just write to all of our representatives and ask for the same thing, our government will finally sit up, raise their eyebrows, and take notice. But if we don't raise our voices and make ourselves heard in the appropriate forum in a constructive way, then nothing will change and we'll only have ourselves to blame as we forgo that Memorial Day vacation travel once again, not to mention all the other sacrifices we're going to have to make on a daily basis.
Thanks for reading.
Technorati Tags: gas prices, oil prices, take action, congress, state, local goverments, take action, less talk, talk is cheap, write, empowerment, wtf
Generated By Technorati Tag Generator