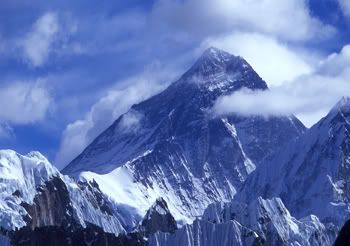 The climbing season on Mount Everest is well underway. Teams are at basecamp. Ropes are being fixed. Climbers are acclimatizing. But what's different this year is that the Olympics are being held in Beijing in just three months; and as part of the festivities, the Chinese Government wants the Olympic Torch to summit Mount Everest. According to
Everest News
, this has not yet happened, and it's becoming clear that the politics of the Beijing Olympic Games looks to add a new twist to the 2008 Climbing Season on Mount Everest.
Everest News reports that previously published accounts from a climber that the Chinese summited a couple of days ago and had trouble with the Olympic Torch has some Chinese quite mad. EverestNews.com did NOT carry those reports on its site and have seen NO evidence that the Chinese summited Everest this season yet. Their sources indicate that climbers were fixing rope high but that the summit was not reached and that the summit was not the goal. Their sources tell them that action might be taken against those climbers or against "many" of the climbers on the South side (Nepal) because of these reports. The effects could vary from outright bans of climbers to a "few more days of waiting at base camp" before they are allowed to go up. Climbers have been warned against reporting on the exploits of the Chinese Teams or the status of the Olympic Torch on Everest this year.
In official news, the Chinese report that the climbers have been selected and that all preparations have been completed. There are 50 climbers on the team. Han Chinese, ethnic Tibetans, and other ethnic groups such as ethnic Hui, Tu and Tujia are included in the team. However, the summit bids will probably be delayed. Weather is expected to turn worse for 2-3 days and while summits are possible, conditions are far from ideal.
Earlier, Chinese climbers along with Tibetan climbers had been on the move up Everest, carrying a whopping 16 torches with them! There was a reporter from Hong Kong with the team who got altitude sickness and had to descend. Additionally, Chinese fighter jets were flying above the Summit Saturday.... The North side of Everest is still the wild wild west....
As another day passes and the sun sets on Everest, what's clear is that this climbing season, in addition to all the other hazards inherent in an Everest Summit Attempt, is about politics. The only question remaining, and to be seen as the weather is forecast to clear on Tuesday, is will politics and a Torch Relay meant to symbolize the glory of sport end up in costing someone his or her life?
Thanks for reading.
Technorati Tags:human rights, mount everest, olympic torch relay, politics, tibet
Generated By Technorati Tag Generator