The Cathartic Chaos of Camping
By Henson Ray, of
Henson's Hell
First of all, I am very honored to be here today, to share with you some of the tragic highlights of my outdoor experiences. Unlike Matt, who seems to excel in everything athletic and adventurous, my journeys with nature have not always been so inspiring. Don't get me wrong, I love being outdoors. I just don't think the outdoors always loves me.
(Editor's Note: Oh really? Check out Matt's Adventures Gone Wrong after you finish Henson's Guest Post for a story of the almost tragic and ultimately the inspriational.)
The one consistent outdoor experience I still take part in today is the art of camping. Now some may argue that camping is not an art at all, but I disagree. If you've ever been to some of the campgrounds I've seen, there are definitely creative liberties being taken with regard to traditional camp décor. (But I digress…)
My earliest experiences with camping can be traced back to my youth, when I would camp out in my backyard, using an official army tent my Grandfather had given me. He'd been a rider in the
Pony Express
(or so he claimed), and this was one of those original antique two-man pup tents. (Very warm at night, very hot in the morning.)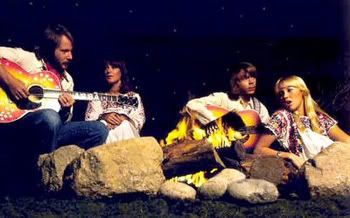 Camping Under the Stars
On weekends, we would set the tent up in the backyard and sleep in it overnight. (Or most of the night, anyway…. Okay, maybe only a few hours, but we always started with the best of intentions.) It was a big treat to be able to sleep
outdoors
, under the stars, with nothing between us and the elements. Or the wild bears. Or dangerous killers who just escaped from the mental institution. Because camping was never complete until we'd scared ourselves half to death with
ghost stories and horror tales
. So by the time midnight came around, we were usually back inside, sleeping safely in our comfortable beds. To me, camping was only fun until you actually had to sleep. Then the reality of a cold hard ground, and a not too comfy sleeping bag made dumping the elements in favor of a soft warm bed very, very appealing.
Years would pass before my camping experiences would leave the safety of my own backyard. For when I was a teenager, my family began a series of summer sojourns northward to Canada, to take advantage of cheap vacation destinations and even cheaper camping accommodations. We drove there in my father's van, which had two backseats that folded down to form a bed. That's where my parents slept, while I slept outside in the pup tent. Somehow it didn't seem fair; especially on those cold Canadian summer nights when it feels like winter. If ever the temperature threatened to dip below freezing, my parents would kindly let me out of my cage…er, I mean tent…and I was allowed to join them in the warmth of the van.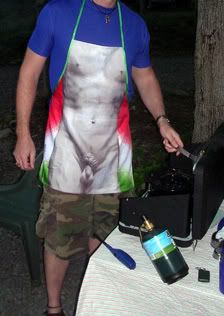 Henson cooking over the camp stove, having delusions of Michelangelo's David.
Once, on a camping trip somewhere in Canada, we arrived late and had to set up our campsite in the dark. The only available campsite was in a huge thicket of grass, which looked like it could house all kinds of horrible creatures, including
Big Foot
if he were so inclined to hide there. So while I tried to set the tent up in the dark, in the high grass, my mother and father worked on creating another culinary masterpiece out of macaroni and tuna fish. You guessed it,
Tuna Casserole
. Which is pretty easy to make in one pot. The problem was, we had an overwhelming amount of moth activity in the area, and within minutes were literally infiltrated by an entire swarm…or a school…or whatever you call a surprise attack by a group of flying insects.

Swarm of Giant Attack Moths
At first, we tried a counter attack by spraying them with anything in an aerosol can. I guess we figured it didn't matter what we sprayed at them, as long as it hit the target. (I'm sure Pam must have some kind of ingredient that can kill a moth, right?) Anyway, after a while they moved on to another camp site and we were finally left alone to eat our dinner. Only one problem--by the time the casserole was actually scooped out from the pot, we weren't really sure about the ingredients any more. Though my mom had done her best to cover the pot during the moth invasion, she couldn't absolutely guarantee that some moths hadn't made it into the mix. And sure enough, the rest of the meal was spent picking out questionable items from the casserole, little of which we could see in the dimming light of our single battery-operated lantern. So much for a pleasant meal under the stars.
After high school, I gave the pup tent away and moved on to better accommodations, none of which were outdoors. It wasn't until four years ago, when a sense of nostalgia drove me to buy a new tent and camping gear that I finally reconnected with my life in nature. Thinking I might like to try camping again at least once, I soon found myself falling in love with the experience all over again. But this time, in a different way. Now, camping wasn't about having fun in the backyard, or finding a cheap alternative to the local Holiday Inn; camping was about something bigger. It was a way for me to get out of my head for a day or two, and out of the stress and strain of everyday life, to commune with nature and to become whole again. Today, camping is more cathartic than chaotic, and I enjoy every minute of it. If I can, I try to get away at least three or four times during the summer; it's even better than going to a spa. (Okay, maybe not a spa. But definitely better than going to a seedy motel.)
So in conclusion, I would like to thank Matt again for allowing me to take up some of his space with my ramblings. If you have similar camping stories you would like to share, feel free to impart them below.
Editor's Note: Thank you Henson for contributing this awesome Guest Post to MTMD. Your experiences were very entertaining. And I second Henson here as well: please share your camp stories in the comments below. And maybe, if there's enough public support, next time we can hear about Henson's experiences at the seedy motel he mentioned. Something tells me that just might be a little more interesting! ;-)

Thanks again, my friend!

Please be sure to visit Henson's Hell and It Happened In Plainfield: A Humorous Online Mystery.
Thanks for reading.
Technorati Tags:henson ray, henson's hell, it happened in plainfield, camping, ghost stories, moths, tuna casserole, pony express, michelango, david, bigfoot
Generated By Technorati Tag Generator