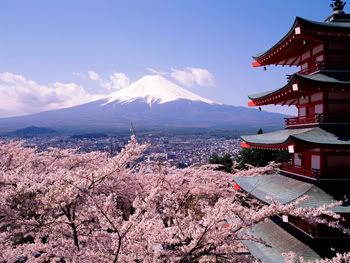 Cherry Blossoms with Mount Fuji in the Background



Cherry Blossoms Outside Traverse City, Michigan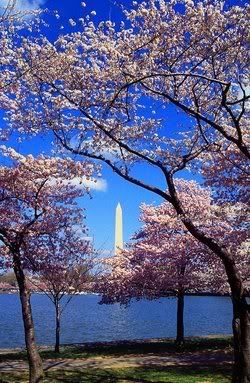 Cherry Blossoms and the Washington Monument
This weekend, a once nationally-renowned event, the Leelanau Cherry Blossom Tour returns to Traverse City, Michigan and neighboring Leelanau County. Cherry blossoms were once celebrated in Leelanau County as world-renowned displays, and volunteers are hoping to again spotlight their beauty. A resurgent Leelanau County Cherry Blossom Tour has been scheduled for Saturday, May 10, with the county's hills and orchards providing the backdrop for a leisurely bus ride free to all takers. There will be no charge for the tour.
Together, Grand Traverse and Leelanau Counties produce more cherries than anywhere else on Earth. That is why the
National Cherry Festival
is held in Traverse City every July. Chances are, if you've ever had a piece of cherry pie, the tart cherries in the pie came from Traverse City area orchards.
Cherries are a super fruit. They are packed with Vitamins A, C and the whole gamut of Bs and anti-oxidants. Further
nutritional information and mouthwatering cherry recipes
can be found on Jackie's blog:
The Vegan Diet
Years ago, a Cherry Blossom Tour was offered annually by agricultural leaders in Leelanau County at about the same time the "Blessing of the Blossoms" ceremony was celebrated in Grand Traverse County. While the blessing event remains today, the blossom tour has long been discontinued — until this year. The event, which will start and end at the Connie Binsfeld Building in Lake Leelanau, will also feature a free lunch with cherry brats from Pleva's Market in Cedar and those famous Cherry Republic Boomchunka cookies.
The Leelanau County Cherry Blossom Tour is sponsored by the Leelanau Conservation District, Leelanau Conservancy and the Leelanau Enterprise, with several other organizations pitching in to put Leelanau's best — and prettiest — face forward at a special time of year.
Information about the importance of the cherry industry to Leelanau County — as well as efforts to keep that industry strong — will be provided as part of the tour. Information about the tour is available at
LeelanauNews.com
, the website for the Leelanau Enterprise, and at the
Leelanau Conservancy
. Contact the Leelanau Conservancy at 231-256-9665 for further information or to volunteer.
Thanks for reading.
Technorati Tags:almost wordless wednesday, cherry blossoms, national cherry festival, traverse city, michigan, leelanau county, grand traverse county
Generated By Technorati Tag Generator