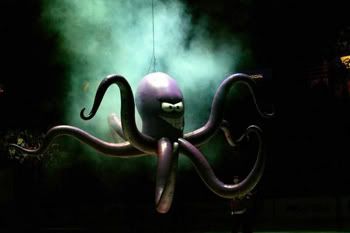 Opening Night of the Stanley Cup Playoffs in Detroit
The
tradition of slinging the octopus
onto the ice before a Detroit Red Wings playoff game originated quite humbly, and even logically. Back when there were the
original six
hockey teams, a team needed to win only two playoff series to earn the league's coveted Stanley Cup. On their way to sweeping Montreal in the Stanley Cup finals, the Red Wings of Gordie Howe and Sid Abel, et. al., won eight straight games in the spring of 1952, a rare occurrence. A couple of brothers and business owners from Detroit's Eastern Market decided to commemorate the feat.
Pete and Jerry Cusimano, because they owned a fish market, decided for the end of Game 4 on April 15, 1952, to toss an octopus onto the Olympia Stadium surface, with each of its tentacles representing a postseason victory.
"Octopus has a great flavor," said Kevin Dean, owner of the Superior Fish Company in suburban Royal Oak, MI, famed for selling more than 100 pounds of octopusses on a single Red Wings gameday, some even to ingest (in salad, spreads, dip and octochili). "You are what you eat, and octopi basically eat crustaceans, crabs, other mollusks. They'll dine on sharks. Even ducks."
And yes, even Penguins.

Al, the Octopus--stoked and ready for the Finals!
A hockey tradition unlike any other continued this week at The Joe--as
Joe Louis Arena
is affectionately known--where security guards reputedly attempted to stop cephalopod smugglers at the doors. Red Wings spokeswoman Lisa Hickok said at least three octopuses have been confiscated from ticket-holders through the first three rounds of the playoffs, and promptly pitched. Hopefully, not into the Detroit River beside the arena.
"Sometimes, they can smell them coming in on people," she said.
Sometimes?
Ms. Hickok said octopus tossers are, if possible, apprehended and taken to Detroit city police on patrol at The Joe. The tossers aren't usually escorted from the building, but they can receive a ticket and fine, she said. This was news to a Detroit police spokeswoman, who declined to give her name but said she never heard of such a thing. Could be a disorderly conduct charge, she offered. Or, maybe, if the object actually hit a player or official on the ice, assault with ... a deadly appetizer?
It is indeed "octomania," as eloquently phrased by Superior Fish's Mr. Dean, who runs the family business with his brother, David. The roof of The Joe is adorned in the postseason with a huge, inflatable octopus mascot named Al. Some Detroit radio stations hold contests for tickets such as bobbing for cephalopods or mollusk catching.
Earlier this postseason, the Nashville Predators raised a fuss about fabled building operations manager/ice-lord Al Sobotka whipping The Joe crowd into a frenzy by picking up a thrown octopus and spinning it over his head. As a result, the NHL--I couldn't make this up, either--threatened a $10,000 fine if Al Sobotka or anyone twirls around a mollusk anywhere on the ice surface.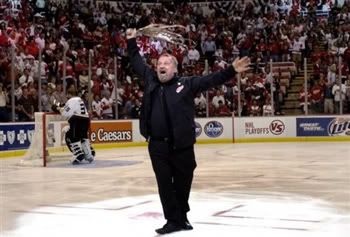 Al Sobotka Wielding the Octopus
So Al Sobotka waits until he has returned to the safety of the Zamboni doorway, still within full view of the 20,058 Joe seats.
"I was kind of surprised by the rule, but what am I going to do?" said Sobotka, in his 37th season with the Red Wings. "The fans get a big jolt out of it. The TV people get a big jolt out of it."
And he shared his spinning secret: "You got to get a firm grip on it and kind of twirl it real fast, otherwise the tentacles hit you in the face."
Superior Fish offers a how-to guide and ice-pitching protocol the Dean brothers dub "Octoquette":
1. Boil the octopus for a half-hour to remove the natural moisture so the ice doesn't get slimed.
2. Hurl an octopus only after a Red Wings goal or at the completion of the national anthem. A Game 2 hurler noticed how somebody tossed one at the end of that Detroit victory: "It was a ... sea monster. The thing had to be 30 pounds. How the hell do you get that over the glass?"
3. Throw it "away from any players, officials and personnel," to quote the
SuperiorFish.com Web site
. "If you have any doubt in your ability [to hit such a target area], PLEASE refrain from propelling your Octopi."
Mr. Dean and his employees go so far as to ask potential hurlers for their seat assignment, physical shape and throwing ability when selling octopuses that normally range from 1 to 16 pounds. They also will set up buyers with a kit containing large plastic bags and gloves to deal with boiling and hiding the octopus. Thanks to Superior, it has become so easy that parents have been known to celebrate the end of Pee Wee hockey seasons with a ceremonial cephalopod fling.
Any Detroit fans who plan to attend any of the Cup games in Pittsburgh better stash their eight-legged friends in their carry-on luggage because they'll have a hard time buying them in Pittsburgh. (See article from the Detroit Free Press below.) Dan Wholey, owner of the legendary Strip District fish market that bears his family's surname, said that anyone trying to purchase an octopus during the Finals has to present a valid Pennsylvania ID. He said Wholey's will not sell their octopuses to visiting Red Wings fans; a sign above the store's octopus display says as much.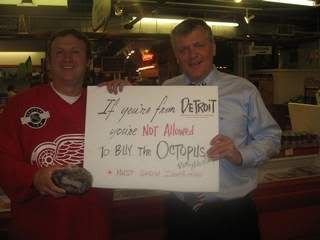 No Octopus For You
"Octopus is for eating, not for throwing," Mr. Wholey said. "It's a beautiful part of the seafood diet and we don't want any of ours on the Penguins ice, and that's a fact. The Penguins are going to win the Stanley Cup and we're strong supporters of them."
Game and mollusk on.
____________________________________________
Operation Octopus: Pittsburgh purchase try is firmly denied
BY BEN SCHMITT •
FREE PRESS
STAFF WRITER • May 28, 2008
PITTSBURGH -- The octopus police pounced almost immediately after I took 10 steps Tuesday into Pittsburgh's most famous downtown fish market. In my red-and-white Red Wings sweater, I strolled toward the octopi. They were packed in open freezer cases full of ice and wrapped neatly in plastic.
My undercover assignment: Test Dan Wholey on his proclamation that Red Wings fans can't buy the eight-legged creatures from his store, Wholey's Fish Market, located in the meat and produce warehouse area known as the Strip District. The mission was painful enough. I live and work in metro Detroit and cheer for the area's professional sports teams. But I grew up in Pittsburgh, and my heart remains with the black and gold. Now, I was the enemy in my hometown.
I walked into the 20,000-square-foot market, past a stuffed animal Penguin and a "Go Pens" sign, at 1:50 p.m. A model train rolled along tracks hung just below the ceiling.
"Dan Wholey, get him!" shouted an employee. "He's a Red Wing fan."
Pretending not to hear him, I walked right up to the octopi. I picked one up, ignoring the warning sign: "If you're from Detroit, you're not allowed to buy the octopus. Must show identification."
Moving toward the counter, Dan Wholey intercepted me.
"Excuse me, sir," he said.
"Hey, how you doing?" I replied.
"You're with the Red Wings, right?" he said in a soft-spoken tone.
"No, not with the organization," I answered.
He was polite, but serious.
"I can't sell that to you," Wholey said.
"What do you mean?" I retorted.
"Didn't you see the sign? C'mon, I'll show you."
He walked me back to the warning sign and pointed.
"You can buy anything else in the store," Wholey said with a sweeping gesture. "But I can't sell you an octopus."
He was very apologetic, but insistent. "I cannot."
I turned to leave, all in good sport. A few customers in the small crowd that had gathered cheered as I headed toward the door. Then I turned around with a chuckle and revealed my identity: Detroit Free Press reporter.
Wholey burst out laughing.
I was the first person to challenge him in person on his octopi-refusing stance, he said, one that made national news last week. "Boy, you scared me," Wholey admitted. "I thought, 'Oh God, here we go. I'm really going to have to deny someone.' " He lamented the Penguins' losses in the first two Stanley Cup finals games.
"My goodness, we are behind the eight ball," he said. "The Red Wings have the toughest defense I've ever seen."
Turns out the guy who alerted Wholey of my presence, Mike Hartman, carries the self-imposed title of head octopus cutter.
"That sign's been up for a week, and as soon as you walked in I thought: 'Someone from Detroit is trying to test us,' " Hartman said. "I wasn't really sure that someone would want to throw one on the ice of Mellon Arena. But you had me convinced."
Wholey said he planned to stand his ground and would continue to do so today if other Wings fans appear at his store as Games 3 and 4 shift to the 'Burgh starting tonight.
"I was nervous about the confrontation, but I really do stand behind the policy," he said. "It's not gonna happen, at least not from here."
We shook hands. I started to leave when a customer who witnessed the exchange pulled me aside. She quietly told me of another fish market, a half-mile away, that would sell me an octopus. I headed toward my car, still in my Wings sweater.
A man in a black T-shirt and jeans walked nearby as I crossed Penn Avenue. "That's a dangerous thing to be wearing today," he said.
I drove up to the next stop: Benkovitz Seafoods on Smallman Street.
I asked for octopus.
"Sold out," said a man behind the counter.
I asked to order some. A female employee chimed in: "No one's going to sell it to you in that shirt."
I pressed on and asked for the store manager.
Manager Devenee Schumacher was not only willing to sell it to me, she agreed to place an order because the store was out.
"I'll order it for tomorrow," she said.
The female employee protested, pointing out my clothing.
"I know, he's a Red Wing fan," Schumacher said. "What do I care?"
She wanted to know why octopi were so popular with metro Detroiters. I explained the tradition and how it originated because eight wins were formerly needed to win the Stanley Cup.
She wrote my name on a small order slip, next to the words "1-octopus."
"I don't believe in superstitions. I don't think it would hurt the Penguins in any way," Schumacher said. "I love our team dearly and I root for them."
Contact BEN SCHMITT at 313-222-4296
GO WINGS!
And thanks for reading.
Technorati Tags: detroit red wings, al sobotka, the tradition of the octopus, hockey traditions, slinging the octopus, original six, stanley cup playoffs, stanley cup championships, joe louis arena, hockeytown, hockeytown traditions, pete cusimano, jerry cusimano, stanley cup championships, stanley cup finals, stanley cup playoffs, stanley cup
Generated By Technorati Tag Generator