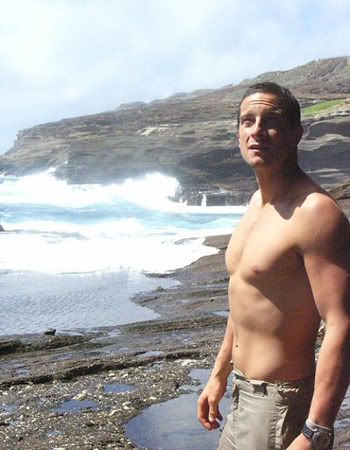 While I don't exactly have a man-crush on Bear Grylls, I do love his Discovery Channel show
Man vs. Wild
. And while we have since learned that the show is actually quite heavily staged, I don't think it diminishes in any way the entertainment value of the program or the incredible predicaments Bear illustrates and demonstrates on camera; such as tonight when the first new episode of this season airs at 9pm EDT. In this episode, Bear Grylls suffers heat stroke after consuming a live snake that defacates down his throat as he's eating it. The only issue, diarrhea ensues while he's attempting to climb a cliff and has to hang on with one hand while he tries to undo his pants. This is probably an episode that most ladies will definitely want to tune in for despite the grossness factor, and it should make for some very interesting television to say the least. The guy has no shame and you have to admire him for it.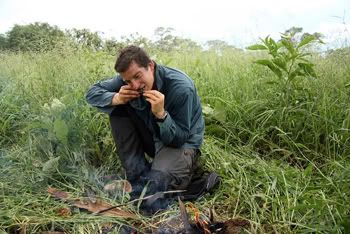 But while I love watching Bear's exploits on television, I have to tell ya, getting stuck in those situations isn't exactly my cup of tea. But I really dig his clothing. As an outdoors guy, I'm always looking for gear that will hold up in all kinds of unexpected conditions, and I think I've found some that Bear Grylls happens to be wearing. In the photo above, Bear is wearing
Craghopper's Nosquito Expedition Trousers
. They have reinforced knees, lots of secure pockets including a hidden security pocket, it's coated with mosquito repelling chemicals and antibacterial agents that help keep the bugs from biting and the clothes from stinking. They're lightweight, ergonomic, water repellant and have a lifetime guarantee. And they're a little pricey at 50 pounds or about $100 US. My pair is on the way.
I wanted to try the clothing out for myself before committing so much money to them so I got the Nosquito Shorts, pictured above. The shorts are the best pair of travel/outdoor/hiking/camp shorts I've ever owned. They're super light-weight and comfortable, they fit perfectly, they have 8 very secure pockets, the Nosquito and anti-bacterial treatment, water repellent and they have a lifetime guarantee. They're also rip-resistent. Shortly after putting them on I thought I had snagged them on a sharp exposed tree branch. But after close examination, there's no indication of the encounter. The shorts are awesome and easy to care for, so I'm going to order another pair as well, 35 pounds or about $70.00.
Bear Grylls gets himself into all kinds of situations. Someone like him needs clothing he can absolutely depend on. I know that if the clothing
Craghoppers
has created for him can hold up to what Bear Grylls encounters in his television show, they will do just fine for my far less intense expeditions into the outdoors here in the United States. And they're most likely good to go for you as well.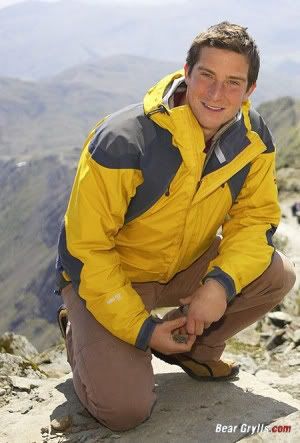 Thanks Bear, you rock!
_______________________________________________
And from the world of sports, last night the Detroit Red Wings demolished the Colorado Avalanche 8-2 in the NHL Western Conference Semi-final. Bring on the San Jose Sharks or the Dallas Stars for the Western Conference Championship. Those in attendance in Denver wearing Red Wings sweaters were definitely chanting "Os-good, Os-good," all evening.
But even more significantly, Johan Franzen scored his second hat trick in 3 games versus the Avalanche, and with 9 goals for the series equaled by himself as many goals as the Avalanche scored in all 4 games; and Franzen also eclipsed a legend--scoring 9 goals in a series is a new Red Wings record, eclipsing the old record of 8 goals in a playoff series by none other than Gordie Howe.
Thanks for reading.
Technorati Tags:bear grylls, man vs. wild, craghopper clothing, detroit red wings, nosquito pants, nosquito shorts
Generated By Technorati Tag Generator